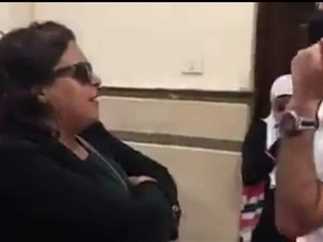 The Official Gazette published on Sunday, President Abdel Fattah al-Sisi's Decision No. 14 of 2022 which stipulated that Noha al-Imam al-Sayyid Mohamed al-Imam al-Sheikh, the general prosecutor with the Administrative Prosecution, be referred to pension.
The Nuzha Appellate Misdemeanors Court accepted on September 20, the Public Prosecution's appeal against the acquittal of Sheikh in the case of her assault on a police officer.
Another court issued a suspended imprisonment sentence against her of three months before she challenged the ruling.
Top prosecutor Hamada al-Sawy referred Sheikh to a criminal trial over charges of beating and insulting a police officer while performing his job, as well as damaging properties intentionally.
The investigations of the Public Prosecution stated that Sheikh insulted the commander of the guards of the Heliopolis Courts Complex, after he asked her to wear a face mask during his inspected the security situation in the court.
He also asked her to stop filming some court employees while performing their work, which is punishable by law, and took her mobile phone to stop the filming leading to the assault.
She destroyed his police rank badge and a wireless device in his possession during the scuffle, leaving him with minor injures.
The officer filed a claim against her accompanied by a video of the incident.