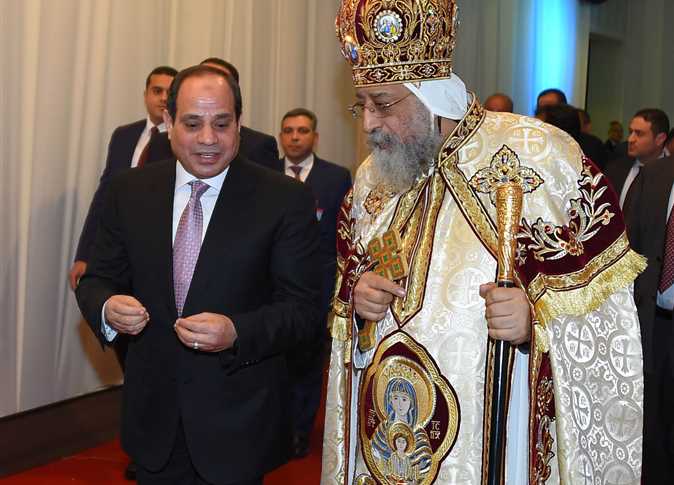 Citizenship and equal rights for all are fixed values ​​that represent the Egyptian government's approach towards all citizens, President Abdel Fattah al-Sisi said on Tuesday, during his meeting with the heads of churches participating in the General Assembly of the Middle East Council of Churches.
He added that the government establishes this through actual and realistic practices in all walks of life in Egypt in order to combat extremism.

The meeting took place at the Ettihadeya Presidential Palace in Cairo and was attended by Pope Tawadros II of the Coptic Orthodox Church, Foreign Minister Sameh Shoukry.
Sisi stressed that Christians are siblings to Muslims in all Arab countries and are an integral part of the spectrum of society.
Presidency spokesperson Bassam Rady stated that Sisi welcomed the attendees of the General Assembly of the Middle East Council of Churches, which is convening for the first time in Egypt since the council was founded in 1968, while the participants expressed their happiness to visit Egypt, stressing its valuable contributions in human history and quest to achieve peace.
They also praised Sisi's efforts to reach settlements for the urgent and complex crises in the region.
Rady added that during the meeting with Sisi, attendees discussed ways to enhance various aspects of relations between Egypt and the Middle East Council of Churches, especially with regard to efforts to support dialogue and citizenship, and reject extremism in various countries of the region.
Sisi also reviewed the restoration of many archaeological Christian monuments, sites and churches replete with manuscripts and unique historical icons in Egypt, as well as the project to revive the trail of the Holy Family, under efforts to protect the Egyptian Christian heritage.