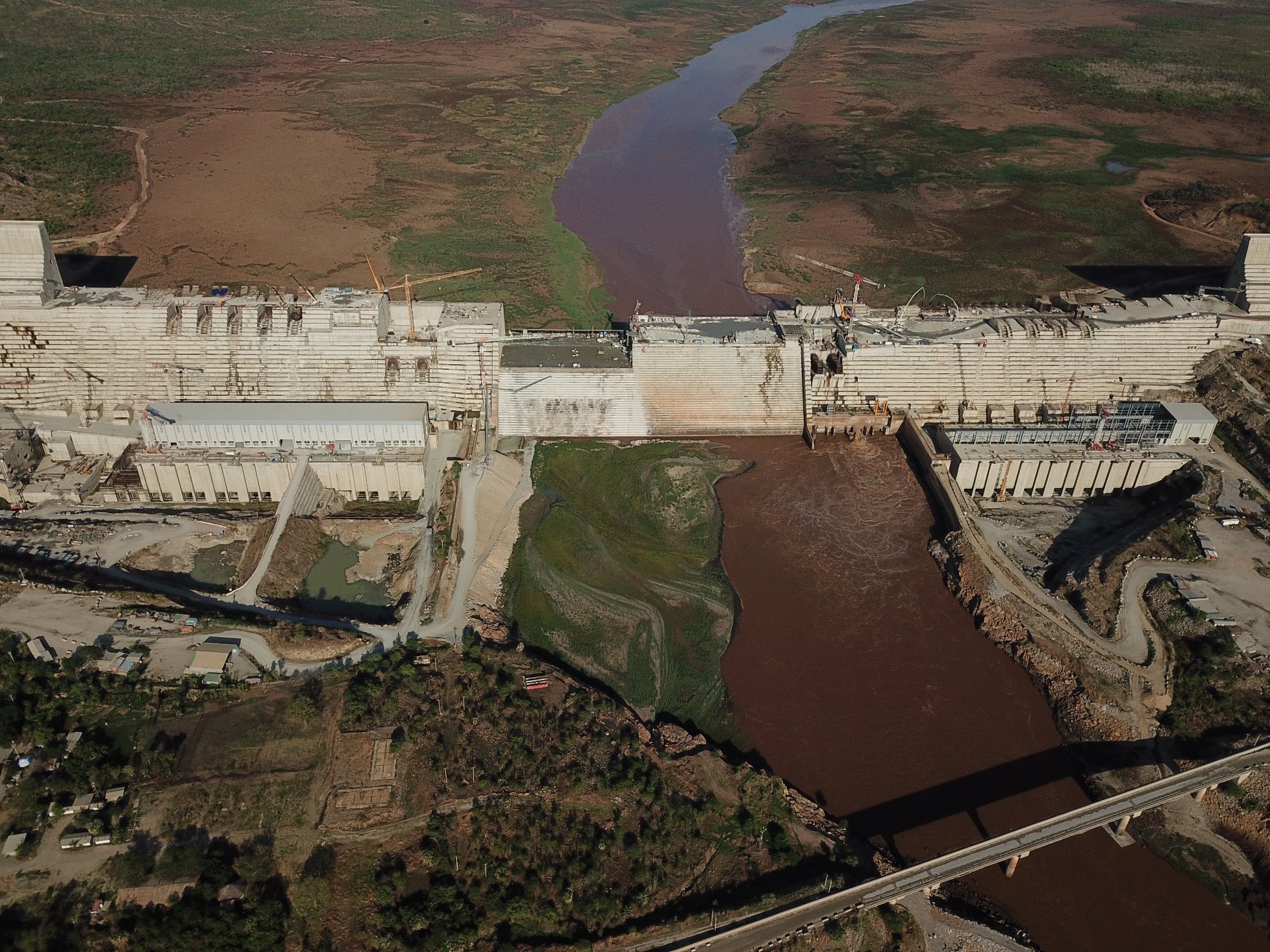 During a speech on Wednesday, Egypt President Abdel Fattah al-Sisi commented again on the ongoing (and failing) negotiations over the Grand Ethiopian Renaissance Dam, urging cooperation from Ethiopia on the matter.
"I'm telling the brothers in Ethiopia, we better not reach a stage where Egypt's water interests (are harmed), because all options are open. Our cooperation is better. It's better to build together than disagree and struggle," the president said.
Sisi added, during an inauguration for the Integrated Complex for the Issuance of Secured and Intelligent Documents: "I have touched during the past years that our brothers in Ethiopia have some form of discomfort that water has to go to Egypt."
Sisi promised to take every opportunity to maximize the use of water, and to establish projects in this field regardless of its cost.
Fifteen water pumping stations are planned in the al-Hammam region to take advantage of the water flowing from Aswan to the Delta, as the land slopes naturally down from south to north, Sisi added.
"With the organization of the parade of royal mummies, we wanted to deliver a message," he said, adding: "We wanted to say… This country has been here long since water used to flow naturally without anyone preventing it or changing its direction…This civilization will continue."
The Hammam project that is being constructed  will also treat sewage water and use it in agriculture, he said.
Ethiopian Minister of Water, Irrigation and Energy Seleshi Bekele said on Wednesday that any attempt to block the second filling of the Grand Ethiopian Renaissance Dam (GERD) would constitute a great loss to Ethiopia, amounting to one billion dollars.
During a press conference, Bekele said that his country has proceeded with the process of the second filling of GERD, and it will be on schedule according to planned, and no one can change the date of the second filling because it is a process that is technically related to the construction.
The three parties have held several rounds of negotiations over the past decade, but have ultimately failed to reach an agreement.
The construction of the dam, which began in 2011, is considered to be one of Egypt's most serious water issues.
Egypt, which relies considerably on freshwater from the Nile, has voiced fears that the GERD would negatively impact the country's water supply, and has insisted that measures be put in place to protect downstream countries in case of drought during the dam's filling process.
Ethiopia, on the other hand, has stressed the importance of the project to bolster its economy, where more than half of the population currently lives without access to electricity.