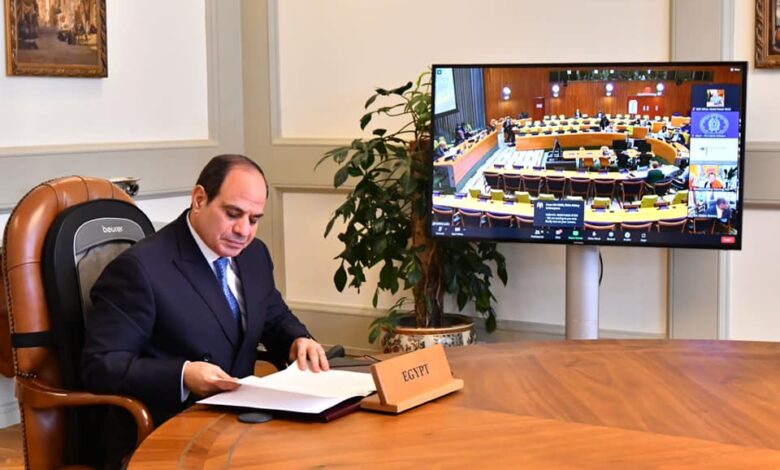 Egyptian President Abdel Fattah al-Sisi said that all countries that sponsor, support and shelter terrorists must be held accountable.
During his speech before the 76th session of the United Nations General Assembly on Tuesday, President Sisi added that a comprehensive approach to confronting terrorism requires international cooperation, and stressed the importance for all countries to respect their obligations.
Terrorism can only be eradicated by confronting the takfiri ideology within the framework of a comprehensive approach, Sisi explained, and warned that terrorism remains one of the most important challenges facing humanity in our time.
He affirmed that terrorism violates the basic rights of citizens, the most important being the right to life, and it impedes the efforts of governments towards achieving their economic, social and cultural goals.
The Egyptian constitution guarantees the freedoms and rights of all its citizens, Sisi said, referring to the national strategy for human rights that Egypt launched a few days ago based on its societal consultation as evidence for Egypt's constructive approach towards human rights issues.
Electing Egypt to chair the current 15th session of the United Nations Peacebuilding Commission culminates Egypt's active contribution to the United Nations peace-building structure since its construction in 2005, he added.
There is no way to stabilize the Middle East without reaching a just and comprehensive solution to the Palestinian issue, Sisi said, which was and still is the central issue of the Arab nation.
Egypt confirms the consolidation of the ceasefire that was reached on May 20 between Palestinians in Gaza and Israel.
And Sisi added that Egypt calls on the international community to improve the conditions of citizens in Palestine, and to deliver food and aid to them.