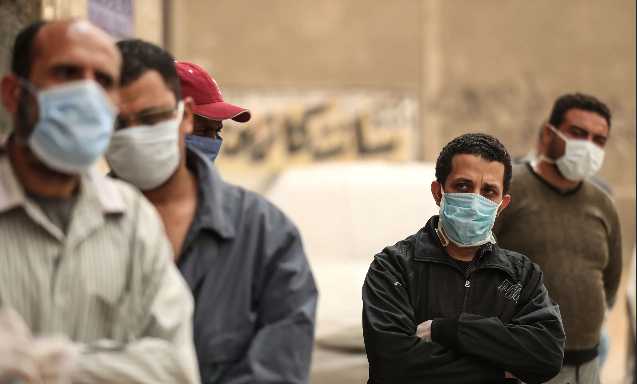 President Abdel Fattah al-Sisi warned on Sunday against an imminent third wave of coronavirus in Egypt, stressing the need to adhere to the precautionary measures.
During a speech on Mother's Day, Sisi said that "Egypt survived the first and second waves, thanks to God, and Egypt is on the cusp of the third wave, and we hope that it will pass in good (without significant harm)."
"The government continues its efforts to provide vaccines, but we have a role to play in following the precautionary measures. We are the least affected country, which God has been kind to in this global epidemic," Sisi said.
Egypt's Presidential Adviser for Health Affairs Mohamed Awad Tageldin had previously anticipated the coming period to see more COVID-19 infections during Ramadan.
Tageldin's statements refer to large family gatherings and Iftar parties in Ramadan, common festivals within Egypt.
Egypt's Health and Population Ministry on Saturday confirmed 644 new coronavirus cases. The ministry also reported 45 deaths and 233 recovered cases.
Egypt has now reported 194,771 confirmed cases, 149,489 recovered, and 11,557 deaths.
Egypt launched its vaccination campaign on January 24.
The Health Ministry is currently working to vaccinate medical staff, people over the age of 65, and those with chronic illnesses. The ministry has opened registration for the jab online.
The country is currently using China's Sinopharm vaccine for its campaign will soon receive a shipment of six million doses of the UK's AstraOxford vaccine. The ministry also plans to employ Russia's Sputnik-V vaccine, once it makes its way to Cairo.
AstraOxford and Sputnik-V received emergency approval from the Egyptian Drug Authority on February 24.
So far, 100 million doses of the vaccine have been secured by the ministry, which is enough to vaccinate roughly half of Egypt's population.