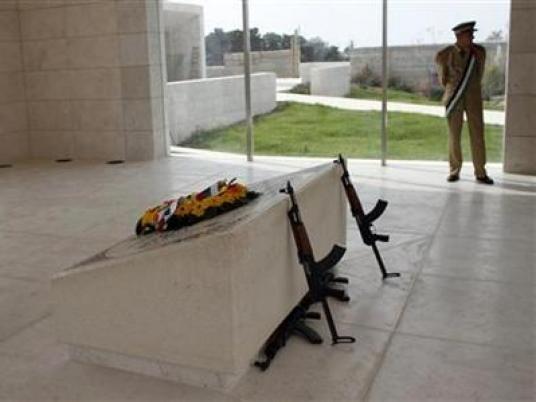 Around 60 samples were taken from the remains of the late Palestinian leader Yasser Arafat for a probe into whether he was poisoned by polonium, a Swiss newspaper reported Sunday, quoting a lead investigator.
The samples were distributed among three teams doing separate analyses eight years after Arafat's death in a French hospital, Patrice Mangin told Le Matin Dimanche.
A Palestinian pathologist was the only person allowed to touch the body when Arafat's grave was opened on Tuesday in the West Bank city of Ramallah.
He was able to "take all the samples that were wanted, around 60 in total," said Mangin, the director of the Swiss University Center of Legal Medicine in Lausanne.
A French team is carrying out a separate probe at the request of Arafat's widow Suha, while a Russian team was appointed by the Palestinian Authority.
Mangin said the investigation would take three or four months.
Speaking shortly after the exhumation process was completed, Tawfiq Tirawi, who heads the Palestinian investigation into Arafat's death, said Ramallah would petition the International Criminal Court in The Hague if it found proof that the veteran leader was poisoned.
The investigations were set up after evidence emerged that abnormal amounts of polonium, a radioactive substance, were found on Arafat's personal effects.
Polonium was the substance that killed Russian ex-spy and fierce Kremlin critic Alexander Litvinenko in London in 2006.