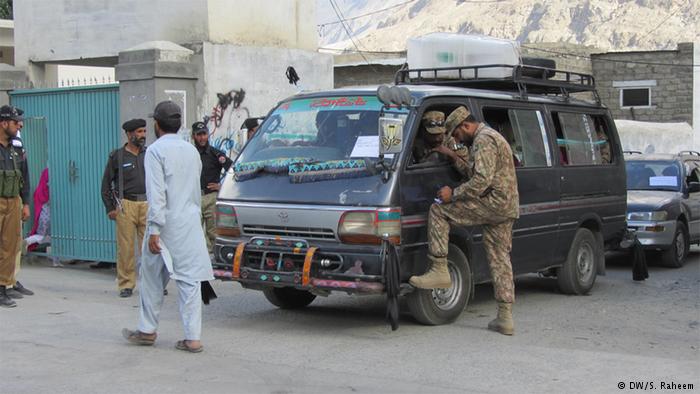 The China-Pakistan Economic Corridor initiative created euphoria in Pakistan, but in Gilgit-Baltistan, a disputed northern region, the locals are concerned about land grabbing and demographic shift. Sattar Khan reports.
Gilgit-Baltistan is Pakistan's northernmost administrative territory that borders the Pakistan-administered Kashmir to the south, Khyber Pakhtunkhwa province to the west, Afghanistan to the north, China's Xinjiang region to the east and northeast, and the India-administered Kashmir to the southeast. In 2009, former Pakistani President Asif Ali Zardari granted limited autonomy to the region.
Gilgit-Baltistan is a disputed territory and a gateway to the massive, multibillion-dollar worth China-Pakistan Economic Corridor (CPEC), which is part of Beijing's international Belt and Road initiative (BRI). CPEC projects in the area have raised concerns among the locals.
The Pakistani government asserts that CPEC is an economic game-changer and will bring prosperity to all parts of the country, including Gilgit-Baltistan. But the people of this area, most of whom are Shiite unlike the majority of Pakistanis who are Sunni Muslims, take such claims with a pinch of salt. They fear that these projects would not only trigger an ecological disaster, a demographic shift and land grabbing, but also threaten their unique culture.
"The Chinese are known for implementing development projects without caring much about environmental issues," Farman Ali, a political activist from Upper Hunza in Gilgit-Baltistan, told DW.
"Over 70,000 trucks will pass through this region daily, emitting a large amount of carbon. The government will also lay railway tracks in this mountainous area by building a number of tunnels. This will likely cause landslides and disturb the region's ecological balance," Ali said.
Employment issues
Islamabad claims the project would create employment opportunities for some 1.8 million people in Gilgit-Baltistan. The locals, however, are not ready to buy this claim. Despite having one of the highest literacy rates in Pakistan, the Gilgit-Baltistan youths are desperately looking for jobs.
Amir Hussain, a political analyst from the Lower Hunza part of the region, spurns the federal government's employment assurance. "The Chinese bring their own manpower wherever they go. For CPEC, they are likely to bring seven million Chinese workers to Pakistan. Around 400,000 of them will be working in Gilgit-Baltistan. How will the locals get jobs?" Hussain questioned.
"Forget about the jobs; the locals are actually losing their livelihood because of this project. Small manufacturers and shop owners are suffering as a result of the Chinese goods flooding the market. The government has also cancelled the licenses for local miners. Mining in the areas is being handed over to the Chinese," Hussain told DW.
Land grabbing?
Land is a precious commodity in this mountainous terrain. And the local population fears the CPEC-related projects would swallow their lands.
Hussain says the government has allocated around 500 acres of land for a special economic zone in the Maqpoon Das area. "These lands have been taken over in the name of CPEC projects. In addition, the army is planning to build checkpoints to provide security to CPEC projects. Fort that reason, they are planning to relocate people from Hunza and Nagar districts, which are located close to the Chinese border," Hussain claimed.
"CPEC has become a holy cow in Pakistan. The locals are not allowed to protest against CPEC projects. Those who do so are booked under anti-terrorism laws and dubbed anti-state elements," the analyst added.
But government officials dismiss these allegations and insist there is a consensus in Gilgit-Baltistan over CPEC.
Faizullah Faraq, spokesman for the Gilgit-Baltistan local government, says all stakeholders have welcomed the massive development in the area.
"CPEC will connect Gilgit-Baltistan to other parts of the country. The area will have a special economic zone, a railway track, fruit processing plants and livestock schemes. The locals are very happy about all this," Faraq told DW.
"The government has formed a land reform commission. Lands have only been identified for various CPEC projects but they have not been taken over yet. The commission will decide whether these lands should be taken over or not, and only after compensating the landowners."
The influx of Chinese workers is just one concern for the Gilgit-Baltistan residents. They also fear that laborers from other parts of Pakistan, particularly from Khyber Pakhtunkhwa and Punjab provinces, would take away their jobs as a result of CPEC.
Simmering sectarian conflict
Gilgit-Baltistan witnessed massive sectarian riots in the 1980s under General Zia-ul-Haq's regime. It is alleged that Haq, a Sunni military dictator, encouraged a large number of Sunni Muslims from Khyber Pakhtunkhwa (then North Western Frontier Province) to move into this Shiite-dominated region in an attempt to alter the area's demography. Some political and security analysts claim that the Pakistani security establishment needed the region as a route for jihadists to support a separatist insurgency in the India-administered Kashmir.
CPEC could once again cause migration from Khyber Pakhtunkhwa into Gilgit-Baltistan.
"Most of the hotels, shops, markets and businesses are already owned by non-locals from Khyber Pakhtunkhwa or Punjab. Now CPEC projects will attract more migrants. This will ultimately turn the locals into a minority," Sher Babu, a political worker in Gilgit-Baltistan, told DW.
Some Gilgit-Baltistan residents believe that Sunni militant groups have already gained a foothold in the area.
"These jihadists are gaining strength and Gilgit-Baltistan could once again become a center of sectarian conflict," a Skardu resident told DW on condition of anonymity.