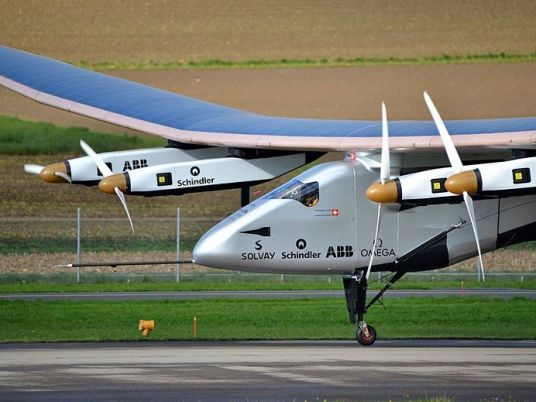 The final leg of an unprecedented world tour by a solar-powered plane was postponed on Saturday due to the pilot's health, he said in a message on Twitter.
The Solar Impulse 2 had been scheduled to leave Cairo for Abu Dhabi.
"I'm sick. Stomach upset. I prefer to postpone the take-off @solarimpulse. I cannot go flying for 48 hours in that shape. Sorry," Bertrand Piccard wrote on Twitter.
The aircraft had arrived in Cairo on Wednesday after a two-day flight from Spain, finishing the 3,745 kilometre journey with an average speed of 76.7 kilometres an hour.
It had earlier landed in Seville after completing the first solo transatlantic flight powered only by sunlight, flying through the night with energy stored in its 17,000 photovoltaic cells.
The plane is being flown on its 35,400-kilometre trip in stages, with Piccard and his Swiss compatriot Andre Borschberg alternating at the controls of the single-seat plane.
"So Piccard was not feeling well yesterday. Was much better this morning. And then again tonight things got a bit worse. So we took the decision… it's not an easy decision but it's a wise decision for safety reasons," Borschberg told journalists who had assembled to watch the plane taking off in Cairo.
The Solar Impulse 2 embarked on its journey in Abu Dhabi in March 2015.