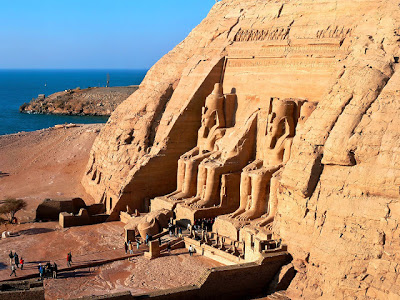 Misr for Sound and Light Holding Company for tourism and hotels announced that it will stage light and sound shows in Chinese language at Philae and Abu Simbel, making Chinese one of the main languages ​​of the show along with eight other languages.
According to a statement by the company, this comes within the framework of the company's plan to cater to new tourist markets such as the Chinese tourist market, which has become one of the largest markets for incoming tourism.
Mohamed Abdel Aziz, head of the company, said that it will be interesting to play the sound and light shows in Chinese for the first time at Abu Simbel and Philae.
The show in Chinese was recorded in cooperation with film director Sherif Mandour in China's Universal Studios in Beijing using the latest technology. The show is voiced by famous Chinese film and radio stars.
Abdel Aziz added that the first sound and light show in Chinese in Philae and Abu Simbel will be screened in the next few days.
He pointed out that the process required great efforts to be accomplished in a short period of time.
Chinese was introduced as one of the main languages of the sound and light shows at the pyramids in Cairo and at Karnak temple at the beginning of this year. The Chinese show now plays in the pyramid area on Sunday at 8 pm and in the Karnak area on Friday at 9 pm.