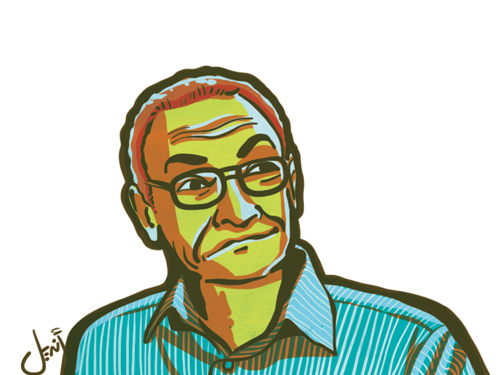 "I don't mean to say that I am more intelligent than he, or that I see things he is incapable of seeing. It may be that it is I who am incapable of understanding what interests him, though I have tried and am still trying. This is the man I'm in love with. I encouraged him to take the posting in the hope that the long journey would change him and the danger revive his flagging spirit. Though, I'm not being wholly honest when I say that. I too am crossing this desert to carry out a mission!"
With these words the Irish Catherine expresses her feelings, in Bahaa Taher's "Sunset Oasis," about her husband Mahmoud, the Egyptian district commissioner. They had both set off for the then less-trodden Siwa Oasis to complete a difficult task, one for which the previous commissioner was killed.
Luckily this Ramadan, Egyptian audiences get to follow the captivating story of Mahmoud and Catherine through a radio adaptation of the 2008 Arab Booker award-winning novel.
Egypt Independent sat down with the 77-year-old literary guru to discuss the adaptation process, his involvement in it and the challenges of turning a much-loved novel into a radio drama.
Egypt Independent: Can you tell us how the "Sunset Oasis" radio show came about?
Bahaa Taher: Well, [adapter Mohamed Aly] contacted me to make this adaptation. We had previously worked together, which makes it easier to understand one another. He adapted my 1985 novel, "East of the Palm Trees." It was very successful and earned him an award at the Cairo Radio and Television Festival.
[This time], we also had our differences over things related to the production. But I generally have a strong stance of not interfering with the creative process for radio, cinema or television. I am only attributed the book.
[Aly] did insert a few things that were not in the novel. But he is more aware about what is best suited for radio.
EI: When revising the script, what was the most important thing for you, so the story does not lose its cohesiveness and depth?
Taher: To me, the historical timeline of the novel was the most important thing: the 1882 Orabi Revolt, its victory, the later defeat of the revolution, and what followed. I did not want there to be any flashbacks that would ruin this historical chronology for listeners. I did communicate this to the director and adapter. After that, they are free whether they take my opinion into consideration or not.
EI: Were you involved in the casting for the show?
Taher: No, I was not involved at all. But I attended [the sessions]. I have worked in broadcasting for 20 years or more; and I believe that directors know which voice will suit each character.
EI: "Sunset Oasis" is written in the first person mode of narration, mostly told by Catherine and Mahmoud. What was the biggest challenge in adapting this mode of narration into the show, and do you think that it is easier to do so in literature than in media?
Taher: This is even a challenge for the novelist. I find it difficult to write in the first person mode of narration, but I prefer to, although it makes you feel deprived from trying to view the situation from several viewpoints, and that is difficult.
The chapter that deals with Alexander the Great in "Sunset Oasis," for instance, is problematic. But, I really liked the solution Aly presented in the radio show. He turned it into a dream that shifts between Mahmoud [the narrator] and Catherine [who has an affinity for Egyptology]. It is an odd dream that was successfully made in a fantastical way.
So whether the narration is in the first person or the third person, what matters is how the writer or director interprets it. The level of difficulty is the same for all mediums.
EI: Several other works of yours have been previously adapted like "Aunt Safiyya and the Monastery," which was turned into a play and TV show. How is the experience of adapting your work for film, TV, radio or theater?
Taher: As I just mentioned, "East of the Palm Trees" was adapted to radio. It is not about the medium; it is more about the vision of the person doing the adaptation. The medium is completely neutral, it can be good if the adapter of the work understands the nature of his medium and interprets the literary work he is dealing with in a good way.
EI: It is very difficult to make an adaptation 100 percent faithful to the original text. Do you worry that this would disappoint your fans?
Taher: I do always hear about these disappointments from people. Even though I thought the TV adaptation of "Aunt Safiyya and the Monastery" was very successful, some readers were [discontented]. I personally saw it was successful; it did not follow the precise footsteps of the novel. But, it has a vision.
EI: How do you see the interaction between cinema, theater, media in general, and literature?
Taher: A lot of people get disappointed when they see a work they love adapted to cinema. It is actually rare for a work to succeed as well as its re-production. For example, when you see Tolstoy's "War and Peace" in cinema, you sense there are several things missing. But, also sometimes a work can be very difficult to adapt and still becomes very successful like in Hemingway's "The Old Man and The Sea" because actor Spencer Tracy, who played the role of the old man, was ingenious. I remember how delighted I was while watching that movie, and how disappointed I was when I saw "War and Peace." Although it had a really good cast, it excluded a lot from the novel.
With the film adaptation of Naguib Mahfouz's "Adrift on the Nile," I had a different experience. I saw the [1971] movie when it first came out and I did not like it. Then I watched it again a month ago. I felt how unjust I was in judging the movie and how amazing it actually is. It had great actors such as Emad Hamdy, Adel Adham and Ahmed Ramzy; a great cast and a successful movie.
EI: Has working with different translators and adapters added anything to your work?
Taher: Dealing with different adapters did not add to me in my writings, but I really liked the [1998] stage adaptation of "Aunt Safiyya and the Monastery" that was performed at al-Hanager Theater. Although the novel was adapted to several theater productions, I particularly enjoyed the performance at Hanager.
EI: Would you rather have it adapted to film or TV rather than radio?
Taher:I do not have a pleasant story with filmmaking. All film adaptations of my novels got cancelled, all of them [laughs]. I think [filmmaker] Tawfiq Saleh mentioned to me that after three years from the signing of the contract, if they did not adapt it to film, then I have the right to claim my work back. But why would I do that, what will I do with it if I claim it back [laughs]?
EI:What about "Sunset Oasis"? There were rumors it would become a TV show.
Taher:It's true. It went through stages, and filmmaker Khaled Youssef was supposed to be the director and adapter, but it did not work.
EI:What is it about the new radio show that you think will be encouraging to listeners?
Taher:I personally love radio. I always have it on at my place. Others simply do not like this medium; they prefer TV. While some people only like cinema, others do not like any of the aforementioned; they like the Internet [laughs]. But whoever likes broadcast will see that there are beautiful aspects to the medium, such as dialogue, music, the ability to stir imagination and make [the experience] dynamic. [With radio], no one imposes a certain image on you; you are the one creating and imagining the scene. Whoever loves radio will love the work.