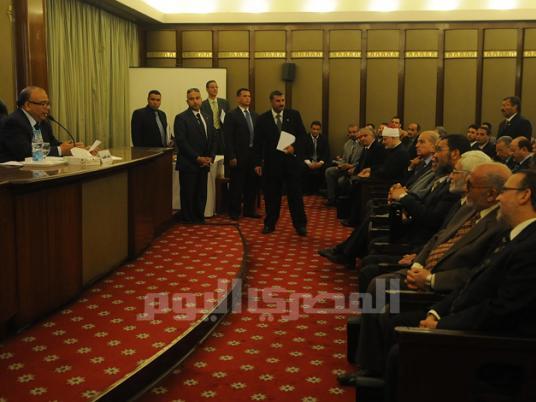 A military source has denied news of statements by Major General Mamdouh Shahin, a member Supreme Council of the Armed Forces, that the Constituent Assembly will be dissolved.
The source, who spoke to Al-Masry Al-Youm on condition of anonymity, expressed hope that the assembly will resume its work, saying "it's on the right path to draft the new constitution."
The source called on the media to report news concerning the military council accurately.
News circulated on Saturday that Shahin had said a ruling to dissolve the assembly had already been issued.
Wahid Abdel Meguid, the constituent assembly spokesperson, said on Saturday that a military council source told him a new constituent assembly, formed by the military council, is ready to replace the version, which was formed by the now-dissolved People's Assembly.
The People's Assembly formed the constituent assembly in June, after the Administrative Court nullified a previous version formed in April did not properly represent Egyptian society.
On Tuesday, the court will review the lawsuits filed against the current formation.
In June, the military council issued a supplementary constitutional declaration, ahead of the announcement of the new president, which states that "If the constituent assembly encounters an obstacle preventing it from completing its work, the SCAF will form a new constituent assembly within a week, which will author a new constitution within three months from the day of its formation."
Edited translation from Al-Masry Al-Youm