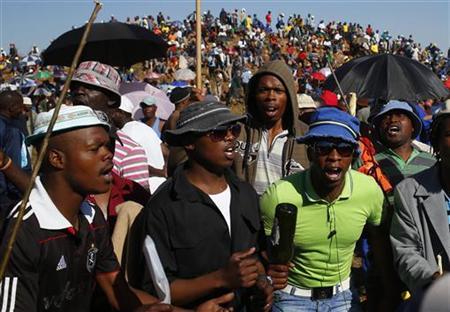 South African police said Wednesday they had shot dead two protestors in a northern village during a seige a day earlier of their station by an angry mob throwing stones and petrol bombs.
"Our members felt that they were in danger and a command to defend themselves was given," police spokesman Hangwani Mulaudzi said.
"Police fired at the crowd… it was later realised that two people were fatally wounded," said Mulaudzi, adding that live ammunition was used.
Fifteen police officers were injured during the clashes on Tuesday, he said.
The deaths bring the total number of protestors killed allegedly by police this year to eight.
The violence near Tzaneen was sparked by community anger over a recent killing in the area.
When residents tried to take matters into their own hands and seek out the suspects, police responded, allegedly shooting dead a 15-year old boy in the process.
Residents then turned their anger against the police.
"The situation in the village is still tense, the community is angry and some people have tried to prevent police from entering the area," said Mulaudzi.
Mulaudzi said additional police officers were dispatched after receiving a tip-off about plans to burn down the police station.
The police watchdog said it was investigating the shooting deaths.
Earlier this month, four people were shot dead, allegedly by police, during a demonstration over the lack of water supply in a town outside the capital Pretoria.
Another man was shot in a protest days later, outside Johannesburg and four officers have been charged over his death.
South African police are often criticised for heavy handedness during protests, where live ammunition and rubber bullets are often used to quell unrests.