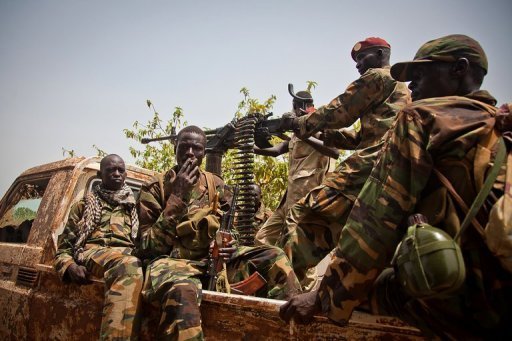 KHARTOUM — South Sudan on Friday accused Sudan of launching an air strike on one of its oil regions, imperiling the chances of a promised ceasefire between the two former civil war foes, but Khartoum denied the charge.
The 1,800 km-long border between the two countries had been largely quiet for the past 48 hours, raising hopes that they could begin talks to end a series of clashes over oil exports, border demarcation and citizenship that have pushed them closer towards a full-blown war.
But South Sudan's army (SPLA) spokesperson Philip Aguer said on Friday that Khartoum was again on the offensive.
"There was an aerial bombardment in Lalop at Unity State at 4 pm (1300 GMT) on Thursday," he said, speaking from Juba.
"At the same time our position in Teshween was shelled using ground artillery."
Sudan's army spokesman could not be immediately reached for comment, but Sudan's Information Ministry spokesman denied the allegations.
"This is a lie. The Sudanese government is focusing on protecting its border and rooting out the SPLA from its territories," said Rabie Abdelatie, the spokesperson for Sudan's Information Ministry.
Claims of the attack came after Sudan said it was ready to accede to international demands for a halt to hostilities, albeit with a significant caveat.
"The ministry points out in light of the repeated attacks and aggressions that South Sudan's army is carrying out…the Sudanese armed forces will find itself forced to use the right to self-defense," the foreign ministry said in a statement on Thursday.
Limited access to the remote border areas make it difficult to verify often contradictory statements from both sides.
Threat of sanctions
The UN Security Council on Wednesday unanimously passed a resolution threatening Khartoum and Juba with sanctions unless they stopped fighting and resumed talks within two weeks, endorsing an African Union deadline of 8 May for negotiations to begin.
Sudan's ruling National Congress Party has shrugged off the threat, saying such US-backed resolutions "aim to punish Sudan and reward the aggressor," the state SUNA news agency said on Friday.
The African Union has drawn up a seven-point road map for peace that demands both countries withdraw their troops from contested areas and resume talks.
Africa's largest country before the South gained independence last July, Sudan sits atop some of the continent's most significant oil resources.
But it lost three-quarters of the oil after Juba's seceded under a 2005 settlement that ended two decades of civil war. The pipelines to export the oil are all located in the north, however, and a dispute about how the oil wealth should be divided has stoked fears of a return to war.
The conflict has brought nearly all oil production to a standstill, damaging both countries' oil dependent economies.
New York-based Human Rights Watch has accused Sudanese forces of conducting "indiscriminate bombings and abuses" against civilians in the Nuba Mountains and South Kordofan.
It has said the violence may amount to crimes against humanity. Sudan dismissed the charges.
The Sudanese army and the Sudan People's Liberation Movement-North (SPLM-N), a rebel group, have been fighting in the South Kordofan and Blue Nile states since last year.
"The government does not attack civilians. The ones who are (attacking) are the SPLM-N and this is their creed. The government is committed to protecting its civilians from these rebel movements that indiscriminately loot and kill," Abdelatie told Reuters.