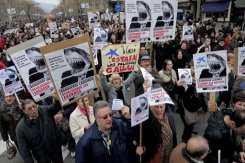 An election in Spain's Andalusia region on Sunday is expected to provide the first real test for two new parties after a profound economic and political crisis has exposed the weaknesses of the country's two-party system.
With a general election expected before the end of the year, regional and local elections in May and a vote in independence-minded Catalonia in September, Sunday's vote will provide the first hard evidence of political change as economic recovery gathers pace, leaving millions of jobless behind.
In Spain's southernmost and largely agricultural region, about 6.5 million Andalusians, one fifth of the national electorate, will for the first time be able to choose between upstarts Podemos and Ciudadanos and established parties.
Their campaign has focused on corruption within the Socialist party, which currently runs the regional administration, and the People's Party (PP), in power nationally, and the ineffectiveness of their policies to deal with rising poverty and inequality.
In Andalusia, Spain's most populous region, more than one in three are unemployed, above the national average of one in four.
The Socialists and the PP have focussed on the purported dangers of newly-minted politicians and of making promises to the electorate that cannot be kept, as well as mutual mud-slinging over corruption.
The PP in particular has been keen to draw comparisons between Podemos and Greece's Syriza government, now locked in thorny negotiations over euro zone financing, having promised to tackle poverty resulting from austerity.
Spain is a test case to measure Europe's centre-left and centre-right parties' ability to resist an announced rise of populist and extremist forces capitalising on the effects of the crisis, with no less than 9 European nations voting this year.
The election is likely to produce no clear majority, according to polls, and will also lead to the formation of cross-party pacts — another foretaste of what is likely to happen on a national scale by the end of the year.