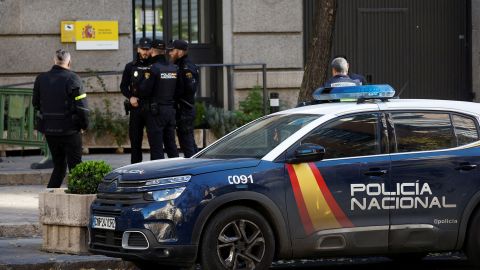 Spain said Thursday it was boosting security measures after a series of letter bombs was discovered in the country, including one that was sent to Spain's prime minister last week.
The latest bomb, sent to an air force base near Madrid, was discovered before dawn Thursday, after one exploded at the Ukrainian embassy in the capital Madrid Wednesday, injuring a member of staff, and another was deactivated at an arms manufacturer.
The device addressed to Prime Minister Pedro Sanchez arrived in the post at his official Moncloa compound on November 24 and his security detail singled it out as suspicious.
After establishing a security perimeter, they conducted a "controlled explosion" of the envelope, an interior ministry statement said.
The bomb "would be similar, for its features and content" to those received on Wednesday at the Ukrainian embassy in Madrid and at the arms manufacturer Instalaza in Zaragoza, and on Thursday at Spain's Torrejon air force base near Madrid, the statement said.
The most recent letter bomb was intercepted just before dawn Thursday after being sent to the Torrejon air force base.
The letters were likely sent from Spanish territory, said Secretary of State for Security Rafael Perez on Thursday.
Both Perez and Interior Minister Fernando Grande Marlaska, who later spoke separately with reporters, said that people should remain "calm."
Perez went on to say that there are not enough reasons to justify raising a terror threat just yet.
Marlaska told reporters that he could not provide any further details.