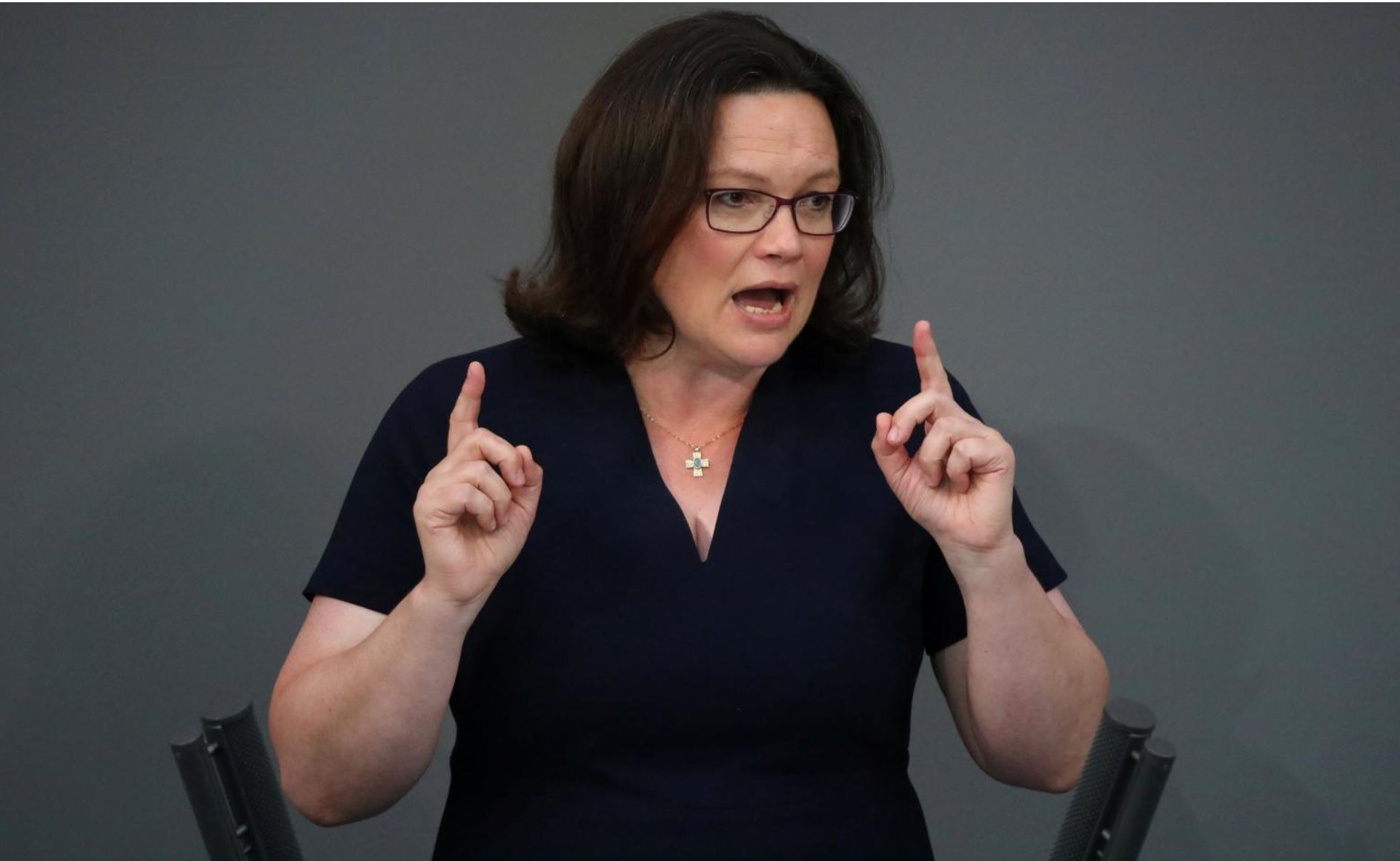 BERLIN (Reuters) – The leader of Germany's Social Democrats said on Monday her party would not approve any participation of Germany in the war in Syria, opening a potential new line of conflict in Chancellor Angela Merkel's loveless coalition government.
SPD leader Andrea Nahles issued a terse statement after the Bild newspaper reported that Germany's conservative-led defense ministry was examining possible options for joining US, British and French forces in any future military action if the Syrian government again used chemical weapons.
"The SPD will not agree – either in parliament or in the government – to the participation of Germany in the war in Syria," Nahles said. "We support the foreign minister in his efforts to avert a humanitarian crisis through discussions with Turkey and Russia."
Bild reported on Monday that a senior German defense official had met the newly arrived US defense attache last month to discuss possible German support for a military alliance against Syrian President Bashar al-Assad.
Russian and Syrian jets and helicopters on Sunday resumed intensive strikes in Idlib and Hama as Damascus stepped up its assault on the last major stronghold of rebel forces.
Bild said German and US officials had discussed various options, including the possibility that German fighter jets could help with battle damage assessments, or drop bombs for the first time since the war in the former Yugoslavia in the 1990s.
Sensitive issue
German participation in any military action remains a sensitive and deeply unpopular topic given the country's Nazi past. Participation in any military strikes in Syria would also put Germany on a direct collision course with Assad's main backer, Russia, for the first time.
Bild said a decision on whether to participate in such strikes would be made by Merkel, who had ruled out joining April 2018 air strikes against Syria by US, French and British forces after a previous use of chemical weapons.
It said participation in military action would be notified to parliament after the fact, if speedy action were required.
The German foreign and defense ministries, in a joint statement, said they were in close touch with US and European allies about the current situation in Syria, potential crisis scenarios and options for joint action.
"The goal is that the conflict parties … avoid escalating an already terrible situation … That is particularly true for the use of banned chemical weapons which the Assad government has already used in the past," it said.
No immediate comment was available from the US embassy.
Reporting by Andrea Shalal and Holger Hansen; Editing by Gareth Jones.