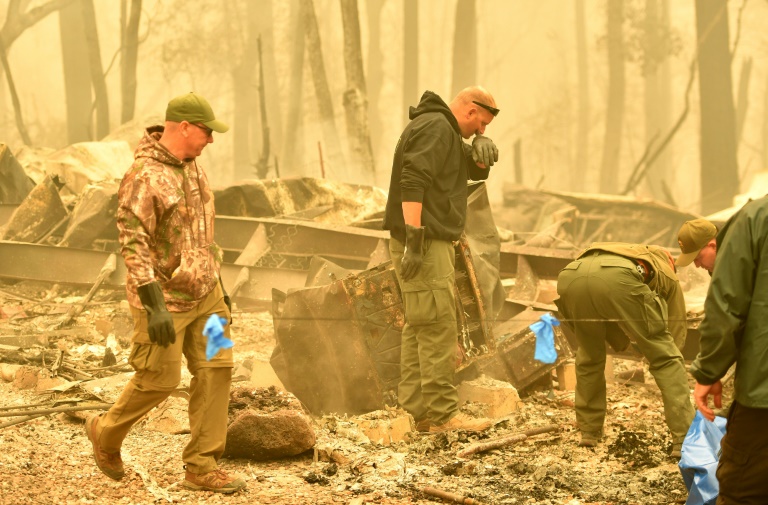 Some plan to travel far away, while others are determined to rebuild their lives here, but most of the survivors of the deadly fire that ravaged the California town of Paradise are still in shock.
"For now, I'm so grateful to be here alive with my family," said Diane Mullin, who escaped the flames but couldn't hold back her tears.
Elizabeth Gorman, who was among tens of thousands of people who fled the blaze, said her town was now "down to nothing."
"There's whole neighborhoods that are just gone… streets, rows and rows and rows. My daughter's house, her mother-in-law and husband's house… every house on the street is just gone," said Gorman, who is in her 50s. "It's horrible."
The so-called Camp Fire has now killed at least 42 people, making the deadliest wildfire in California history.
Like many others, Gorman said she still has no idea what might remain of her house because the authorities have issued evacuation orders and barred locals from trying to return to the town.
Some stayed with friends and family elsewhere, others in hotels — which are completely booked for miles (kilometers).
The less fortunate are reduced to sleeping in churches and schools turned into emergency shelters.
"There's close to 200 people sleeping here, and then throughout the day, a lot more coming to get information and to eat, or for a warm place to stay for a while," said Paul Stanbrook, a supervisor from the American Red Cross, which manages the center established in the Neighborhood Church of Chico.
"We're doing sheltering and also assisting folks that are coming in looking for information… missing persons, help services. We're feeding people, everyone in the community," he said.
Behind Stanbrook, who came from North Carolina, a dozen evacuees finish their breakfast on camping tables, looking absent-mindedly at a television set.
Mullin, who is one of them, wants to stay positive.
'It's freedom'
"We will rebuild, one step at a time. We will rebuild our home. We will be a part of rebuilding that town, because it's a beautiful town," Mullin said.
"We just have to count our blessings… and not count the losses right now," she said.
Not far away, 64-year-old retiree Glenn Simmons — who sleeps in his car for lack of space in the shelter — doesn't know what comes next.
"I'm here waiting for the next thing. I don't know what's gonna happen. It burned a lot of irreplaceable things. I had a lot of mementos, artwork," he said.
"It really hurts inside, 'cause I'm an artist, I lost 50-plus years of artwork, my art. I managed to save some slides, early work, and prints of other things, but everything else is gone," Simmons said.
What will he do in the coming days?
"Apply for government services, stay around here. The building here is full, so I'm sitting in my car right now, which is better than nothing… I was planning on moving out of state, or to southern California… Oregon? I don't know," he said.
"Everything has burned up, I've got my clothes, a backpack, and that's pretty much it. It's freedom, not the kind of freedom you would seek, but it's here though."
Image credit: AFP / Josh Edelson