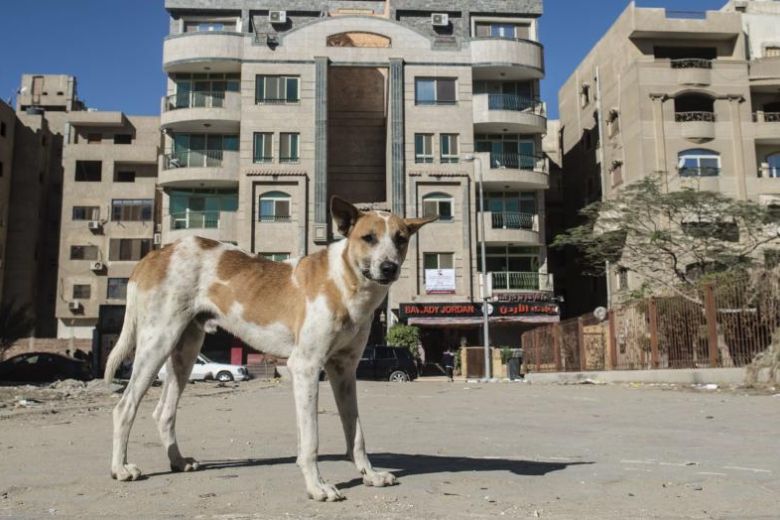 Citizens in the Egyptian resort town of Hurghada have complained about attacks from stray dogs involving women, the elderly and schoolchildren, a phenomenon that could threaten tourism in the Red Sea Governorate.
Around ten dogs can be seen on a daily basis in Dahar Square, the largest square in the city, the town's residents said, adding that they have called the authorities and veterinary doctors to address the problem in line with animal rights.
Al-Masry Al-Youm has monitored the spread of packs of stray dogs during the day and at night in Hurghada, with dogs  reported wandering in groups throughout residential areas and along major streets and traffic squares, startling local residents and keeping them up all night with incessant barking, especially during mating season.
Red Sea local authorities announced recently a reward of LE20 for any citizen able to catch a stray dog and hand it over to veterinary authorities. Rather than euthanizing the animals, veterinarians then perform sterilization procedures on stray female dogs and neuter male dogs in an effort to curb breeding. The initiative, however, has proved unsuccessful.
A number of employees in Egypt's tourism sector have warned of the growing threat of stray dog attacks against locals and tourists alike in the cities of Safaga and Hurghada, calling on authorities to intervene to put an end to the crisis.
Ibrahim Abu Ali, a lawyer in Safaga, said that an Italian tourist, 55, and a German tourist, 40, recently filed two claims with police stations in Safaga after being bitten by stray dogs.
Meanwhile, officials in the area remain at a loss on how best to address the issue, especially considering foreign-led animal welfare societies and rights groups oppose the use of violence to get rid of stray dogs.
For their part, tourism police have implored the head of the Directorate of Veterinary Medicine in the governorate, as well as Red Sea officials and representatives from the Chamber of Tourism Companies in the Red Sea to quickly find a solution to the stray dog problem before the crisis worsens.
Edited translation from Al-Masry Al-Youm
Image: AFP