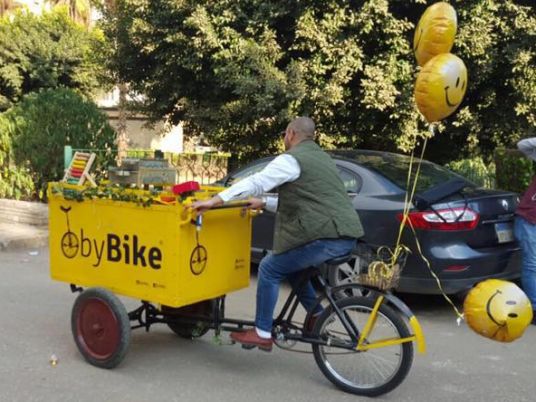 Living in Cairo, we are no strangers to street carts.
Whether they are selling the national staple food, "fuul", early in the morning, selling seasonal fruits and vegetables or collecting "robabekya" household scrap, the usual old, run-down carts have long since blended into the grubby cityscape of Cairo.
Carts have previously been a retail strategy adopted by the Egyptian lower class, but this seems to have changed.
2016 witnessed the arrival of newer carts that have been spotted all around the city, with brightly colored decorations and eye-catching signs. Several new projects have sprung up in Cairo this year selling products via street carts.
Bybike seasonal treats
One such project is the massively successful Bybike, started by Ahmed Mohsen El Sherbini and fiancée Noha Magdy Nowia earlier this year, selling sweet potato desserts and a seasonal menu of other deli foods. For example in April, the seasonally traditional salted fish "ringa" was on the specials menu to mark the holiday of Sham El Nessim.
Part of the operation is also about providing a spectacle. Based mainly in Heliopolis, Bybike sell their products from a bicycle that has been modified to make a small cart. The idea of the business is to create a more interactive atmosphere with customers by selling products in different areas, made possible by the mobility of the street cart.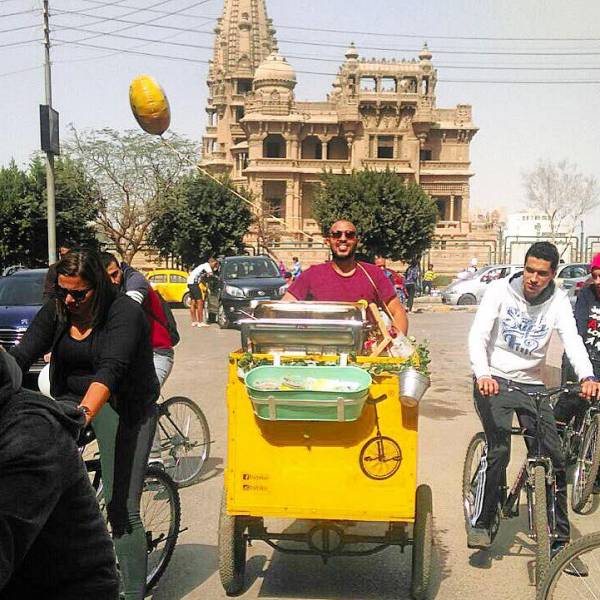 El Sherbini says, "Before we started, we weren't sure about anything — how it was going to go, or anything — so we decided to test it out first. The feedback was tremendous; people were very inspired by the idea. It's really great, it's like opening a new branch every time we change locations. We meet new customers and then more and more people know who we are."
Bybike remains mainly in Almaza and the wider neighborhood of Heliopolis, and the group has accumulated over 16,000 likes on Facebook.
"Customers get in touch and request that we do their neighborhoods, so I haul the bike onto the back of a small truck and we take it out of Heliopolis to other areas. We call these days, 'Bybike on tour'."
Spreading joy
Mina Raafat Adly owns Joy, a small cakes cart in Heliopolis, with his sister. They spend all day baking their products and then go out to the same spot in Sheraton, Heliopolis to sell in the evening.
"I used to work in HR, but I got fired and my sister has had this idea for a while, so we decided to do it. It was difficult before, money was really tight and I couldn't find any work in my field, and now this is my job. Every night at 8pm, we go to the exact same spot and sell what we made all day."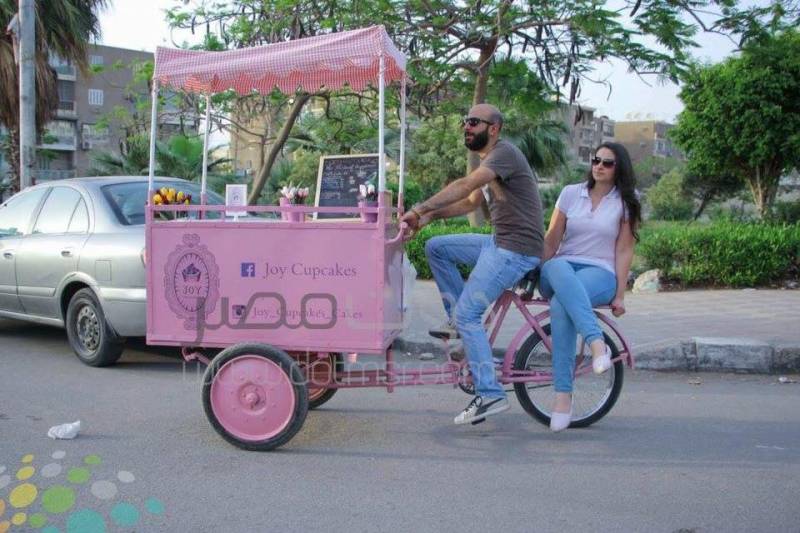 Navigating the red tape
However, the operations of these carts are not completely authorized by the government and there are some restrictions.
Bybike only goes out at night when the police shifts have ended so as to avoid trouble, El Sherbini explains.
"It's not that bad though — the police never bother us, unless residents of the areas the bike is in make complaints, so we just have to be mindful not to bother anyone and be respectful when we are going around."
Adly attempted to make Joy legal through various channels but after weeks of visits to various government buildings was unable to get a license.
"There was too much red tape — we went to the Ministry of Health, but they informed us that we needed special permission to get a license for our cart seeing as it's an independent operation. We kept trying and got nowhere."
La Vie Fleurie on wheels
Sandra Keriakous owns a small flower shop in Heliopolis. Earlier this year she implemented an idea she has had for a while: selling flowers from a street cart that would go from area to area.
"We couldn't sell on the street directly. My shop is licensed so the cart idea had to be slightly changed; I turned it into a delivery cart instead. I send the cart out with samples of different flowers to customers who want flowers delivered but don't know which ones to choose. The cart goes to their homes and they can choose the flowers they want. Business was slow for a while and we needed something new to help it along."
And so her street cart initiative was born.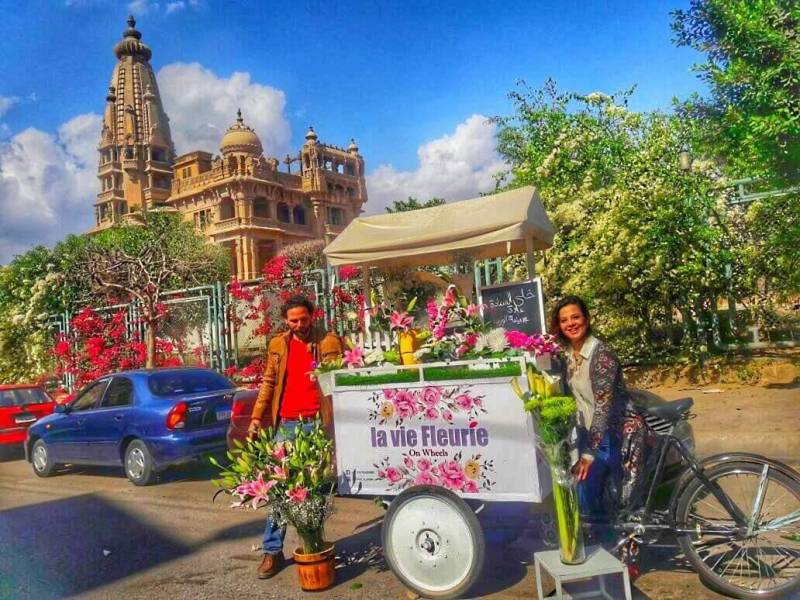 Keriakous also utilizes social media in the operation, posting different locations her cart will go to, but she ensures that her cart is never selling on the street directly by coordinating with certain cafes around Cairo to have the cart sell flowers on their premises. This way, fans of the cart can find it easily, too. Keriakous says that as long as they avoid the busy main streets, they don't get any trouble from the police.
"We want to spread art and beauty, and we're doing it through flowers. We play music on our cart when it goes out, calm music. I even send out a few books on the cart so people can be inspired to read. That's all I want to do. It should be easier to make it legal."
There are other cart operations working in different areas of Cairo. Since the success of Bybike on Facebook, other cart owners have contacted El Sherbini to get advice on how to do it effectively, and ask where they can buy a cart and its accessories.