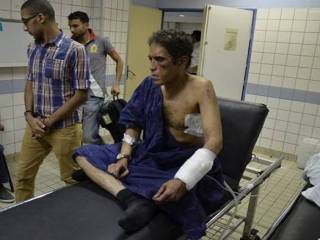 Strong Egypt Party denounced Friday evening the assault on Dostour Party spokesperson Khaled Dawoud, calling it an "act of thuggery."
The Strong Egypt Party called for Egyptians to respect different opinions and to halt acts of intimidation towards intellectuals and public figures.
"The security forces have to carry out their role in protecting citizens instead of focusing on political security [issues] only," the statement claimed.
The party called for the prosecution of the attacked and those "implicated in that despicable act."
Dawoud was stabbed on Friday afternoon and transferred to Qasr al-Aini hospital.
Dostour Party leader Karima Aboul Nour accused Muslim Brotherhood supporters for the attack.
Former MP Mostafa Bakry meanwhile blamed former vice president for international affairs, Mohamed ElBaradei, for the fact Dawoud was stabbed.
"[ElBaradei] has played a major role in internationally inciting against the Egyptian government to cease confronting the terrorist [Muslim Brotherhood]," Bakry claimed in a Twitter post.
"He
took the side of the Brothers, refused to denounce their terrorism, and now he comes to talk about the tragedy under which the homeland lives."
"The real tragedy is your suspicious role and being implicated in a plot against the homeland along time ago, not today," he added, addressing ElBaradei himself.
Bakry said the attack on "ElBaradei's spokesperson" was an inevitable result of supposedly anti-military statements and the defense of the Muslim Brotherhood. Bakry claimed the recently resigned vice president of Egypt was guilty of both.
Khaled al-Khatib, head of the Central Administration of Urgent and Critical Care at the Ministry of Health and Population, said Dawoud's condition improved
Saturday
.
He added the doctors have not yet decided whether Dawoud should leave hospital.