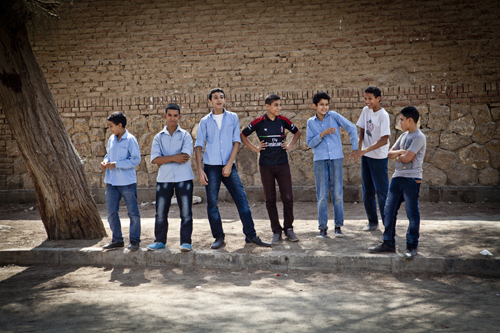 Student protests marked the start of the academic year in some of Egypt
'
s governorates leaving several students detained for rallying against what they described as the
"
military coup.
"
The latest incident was in Fayyoum on Monday, as security troops dispersed a student protest staged in al-Mashtal district against the military-backed interim government.
Protesters shouted slogans against police and military, using megaphones to call on their schoolmates to join them.
After parents informing Fayyoum security department, police arrived on scene and dispersed the protest, arresting seven high school students for rioting.
A security source told Al-Masry Al-Youm on Tuesday that al-Mashtal school students staged the protest before classes and tried to block other students' access to the school.
The sources added that they marched to Al-Baroudeya Elementary School, inciting other students to leave school and join their march.
On Sunday, a group of almost 50 students at the American University in Cairo, were protesting against the military, holding signs that read, "down with the military rule" and the "Interior Ministry are thugs."
The protests were spurred after AUC student Omar Borham was arrested at a police checkpoint last week.
Similarly, 17-year-old student Sarah Adel Ibrahim was handed to authorities by residents of El-Menoufia, a town in the Nile Delta, after she wrote "down with military rule" on the walls of a school, the state-run Al-Ahram news website reported.
Another two high school students were arrested in the city of Marsa Matrouh for distributing flyers calling on students to boycott school in protest of the coup, according to a security source.
"The two students were caught distributing flyers accusing the army and police of being killers," the source told Reuters.
Eleven students were also injured in clashes in Morsy's home town, Zagazig, sources told Egypt Independent.
Several other anti-military protests have been staged at some university campuses including Cairo University where almost a thousand students chanted "down, down with military rule."
Muslim Brotherhood supporters earlier called for obstructing classes as the new school year began on Sunday, but were confronted by security forces.