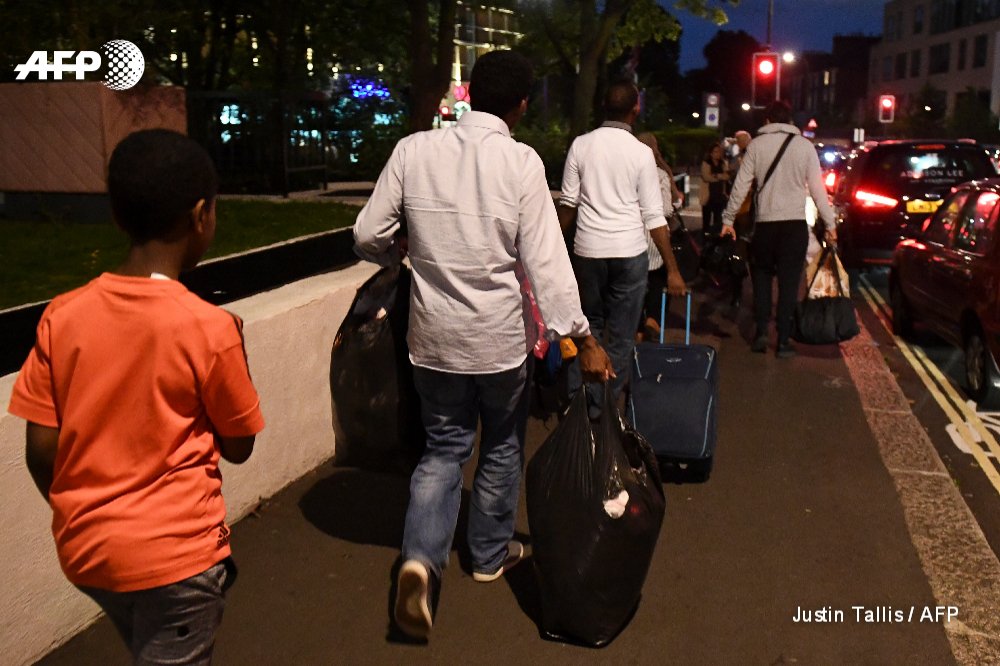 Baffled and bewildered, residents of five London tower blocks were dragging their belongings through the dark streets early Saturday, having been told to pack their bags and get out due to fire safety concerns.
"It's totally crazy. What difference would another night have made?" asked Melanie Tham as she evacuated her home on the Chalcots Estate in north London following a snap decision by the Camden Council local authority, a few hours before midnight Friday.
The cladding on the Grenfell Tower, visible three miles (five kilometres) away across London, is widely blamed for spreading the fire that so quickly engulfed the block last week, leaving 79 people presumed dead.
Urgent tests found Thursday the Chalcots buildings had similar cladding — installed by the same contractor in 2006.
But fire brigade safety inspections Friday determined that the towers were unsafe to spend another night in, with the council owners taking no chances.
"I was at my boyfriend's, I received a text message, and I had to rush back home. They told us we had to evacuate before midnight," Tham told AFP.
Leaving on foot, some with suitcases and bags, hundreds made their way to the nearby Swiss Cottage library to be allocated a hotel for the night after the council block-booked rooms across London.
Evacuated residents could be spending up to four weeks living in hotels while the cladding is removed from outside the 800-odd flats.
– Scramble for information –
Some residents made frantic calls on their mobile phones, while others tried to find out more information from officials in high-visibility jackets as night fell.
Casey Oppong head of the tenants' association in the estate's Blashford tower, was trying his best to tell people what they needed to do.
"We got the order to evacuate the towers tonight. I'm going to inform the other residents," he told AFP.
Council leader Georgia Gould announced the decision to evacuate all five towers very shortly after the authority said just one tower block would be "temporarily decanted".
"Lots of questions from residents about why this move is essential. Firm advice from fire service was blocks not safe to sleep in tonight," Gould said on Twitter.
Mother-of-three Adelina, who lives in the estate's Burnham tower, said: "I am in shock and I don't believe it."
But she added: "I think it's the right thing to do if it's health and safety. I'd rather be safe."
Ahmed Mohamed, 19, who lives in the Taplow tower with his parents and two sisters, said they were alerted by a neighbour.
"It was a mess. We only had five minutes to get our stuff.
"I don't think this is the right thing to do, I feel safe here and I don't think there's any threat to our building.
"I don't know why they're telling us to evacuate 800 homes right now.
"We could've packed our stuff nicely and they would've have time to rehouse people."
Residents will be allowed in to collect more belongings on Saturday daytime, under escort from the fire brigade.
– Grim view of Grenfell –
From her 18th floor flat on the estate, Pippa Wordsworth has a grim view of Grenfell Tower, now a burnt-out hulk.
"I'm very frightened when I'm in the building," the bleached-blonde grandmother told AFP.
"This cladding looks nice. We had no idea it could be so dangerous," she said.
Now the modern covering on her 1965 tower reminds her of the early hours of June 14 when she saw Grenfell Tower on fire.
Britain is now carrying out emergency checks on cladding installed on social housing tower blocks across the country, with 600 identified as potentially dangerous in England alone.
Cladding on 14 towers in different parts of the country has so far been found to be "combustible".
"The scariest thing to know is that if it happened to Grenfell, it can happen to us," Oppong said.
Besides the cladding concerns, residents want the council to install sprinklers and fire alarms, which are currently absent in the high-rise apartments, as well as provide fire blankets, he added.
Oppong blamed the use of multiple subcontractors for work on council tower blocks for putting fire safety at risk, saying that "in the end, there is no control".
Report by Michel Moutot – AFP