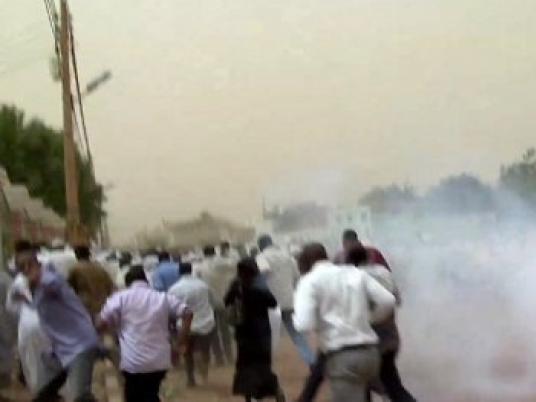 Sudanese police used tear gas and batons to break up a protest in Khartoum on Sunday by activists blaming authorities for the deaths of four students, witnesses said.
Officers moved in as more than 100 students marched towards the justice ministry shouting "the people want to overthrow the regime" and other slogans, people at the scene told Reuters.
Sudan has avoided the mass protests that unseated rulers in neighboring Egypt and Libya, but rising food prices and other grievances have inspired smaller demonstrations.
The police force was not immediately available to comment.
Activists on Saturday blamed authorities for the deaths of four student protesters whose bodies were discovered in a canal near a provincial university.
Students from Darfur — a war-torn western region — had staged a sit-in at Gezira University south of Khartoum demanding an exemption from tuition fees they say a presidential decree required, according to a member of a Darfur student association.
He said a number of students disappeared after supporters of the ruling National Congress Party broke up the protest.
Police in Gezira state confirmed late on Friday two students had been found dead in a canal, and a third was missing, but said there were no signs of violence.
Small demonstrations erupted across Sudan in June after the government scaled back fuel subsidies and took other austerity measures to contain an economic crisis brought on by the secession of oil-producing South Sudan last year.
The protests mostly petered out after a security crackdown and the start of the Muslim fasting month of Ramadan.
Darfur has been the site of a nearly decade-long insurgency. Rebels took up arms there in 2003 complaining the government had neglected the region.