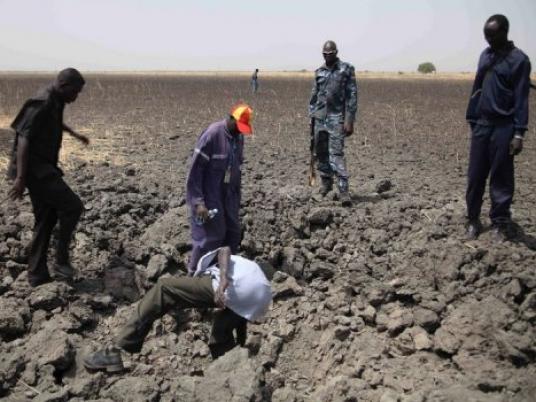 Sudanese warplanes launched a second day of bombardment of oil-rich areas of South Sudan after bloody clashes between ground troops of the rival states, a Southern government official said Tuesday.
"After a day of attacks by air and ground troops on Monday, this morning we heard the Antonov [aircraft] return, and dropped two bombs," said Gideon Gatpan, information minister for South Sudan's Unity state.
"We believe the airstrikes were targeting the oil fields," said Gatpan, adding the bombs, which landed some 35 km from the state capital Bentiu, were not believed to have caused casualties or damage to oil infrastructure.
On Monday, Southern President Salva Kiir said his troops had driven northern forces back across the undemarcated border and seized Khartoum's Heglig oil field, parts of which are claimed by both sides.
Following the fighting Sudanese President Omar al-Bashir suspended an April summit with Kiir, prompting UN chief Ban Ki-moon to appeal for calm between the former civil war foes.
Ban called on the two countries to end the clashes and respect the agreements on border security they had already reached.
Border tensions have mounted since South Sudan split from Sudan in July after decades of war to become the world's newest nation, with each side accusing the other of backing proxy rebel forces against it.
Khartoum threatened retaliation in February and early March after accusing the South of backing rebel attacks in disputed border areas, amidst a furious dispute over oil transit fees with Juba.
Rebel forces that both Juba and Khartoum accuse as being backed by the other were also reported to have joined in the battle Monday.
Khartoum's army spokesperson accused rebels of the Justice and Equality Movement from Sudan's western Darfur region of joining in the fight to target Sudanese troops, claims the rebels denied.
In addition, Southern rebels — from the South Sudan Liberation Army, a militia force Juba claims is armed by Khartoum — said they had taken part to attack Southern troops, boasting that they had killed several.