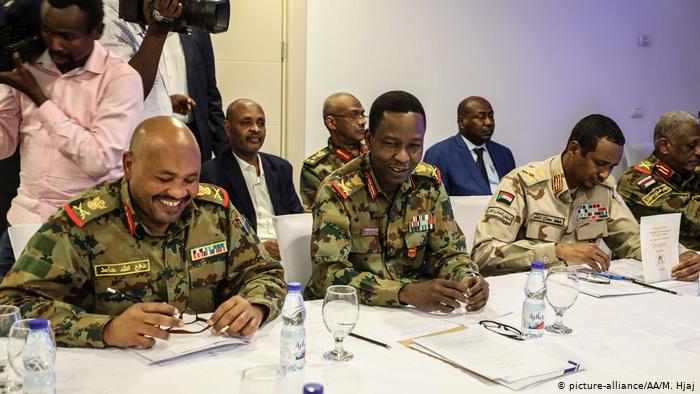 Sudan's ruling military council and an alliance of opposition groups on Wednesday signed the first of two documents as part of a power-sharing deal that activists hope will pave the way for democracy in the east African country.
The two sides inked the "Political Declaration" in Khartoum in front of African Union and Ethiopian mediators following overnight talks to iron out the final elements of the agreement. Sudan's deputy chief of the ruling military council, Mohamed Hamdan Dagalo, described it as a "historic moment."
Ibrahim al-Amin, a leader of the opposition Forces of Freedom and Change coalition, said: "Today, we completed the political declaration. For the constitutional document we will resume talks on Friday."
Stability
"We want a stable homeland, because we have suffered a great deal," the protest leader added. "We are ushering in a new era. The upcoming government will be a government of all Sudanese, for all citizens.
We have suffered enough from the totalitarian dictatorial regime."
The military and the pro-democracy movement agreed on July 5 to a joint sovereign council that would rule Sudan until elections are organized in 2022.
A general is set to head the ruling body for the next 21 months, followed by a civilian for the remaining 18 months. The interim government will be comprised of six civilians and five military representatives.
Sudan has been in a state of flux since former President Omar al-Bashir was ousted in April in a military coup brought about after large-scale protests against his regime.
Earlier this month, dozens were killed during opposition rallies against the military council. The protests — dubbed Justice First — were a direct response to the military council using brutal force against civilian protesters in June.