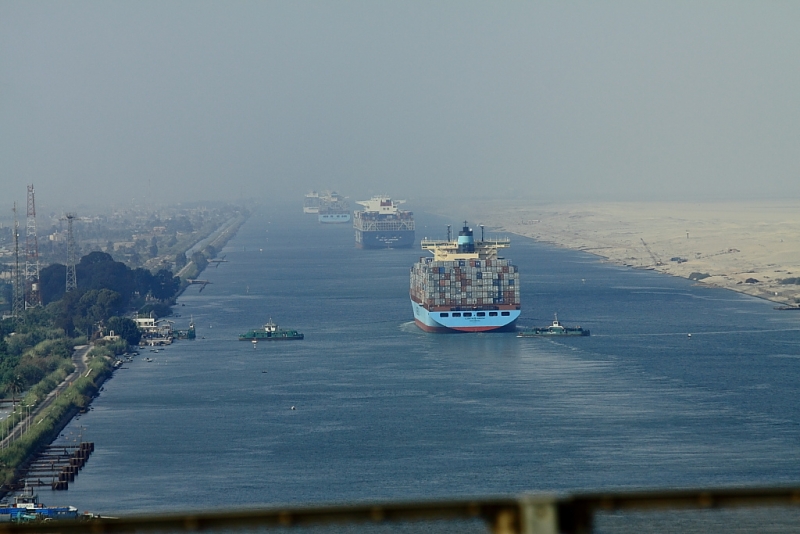 Chairman of the Suez Canal Authority Osama Rabea and the Minister of Antiquities Khaled Anani attended the authority's Sunday celebration in Ismailia for the 150th anniversary of the Suez Canal's opening.
Rabea congratulated President Abdel Fattah al-Sisi and the Egyptian people, expressing pride towards the canal's role in the global trade movement and the shipping industry since the canal's foundation in 1869.
Egypt established several development projects, he said, including the New Suez Canal Project to preserve the canal's global ranking and improve the navigation service level for containers.
According to Rabea, traffic in the Suez Canal recorded 1.3 million ships crossing with total cargo of 28.6 billion tons, and revenues of US$135.9 billion.
Rabea also noted that navigation statistics for 2018/2019 recorded 19,000 containers and ships carrying a total of 1.2 billion tons, and revenues of six billion dollars.
He also showcased navigation statistics revealing that the canal's revenues reached $515.1 million in October and that the total net cargo amounted to 108.9 million tons, compared to 103 million tons in October of last year, an increase of 5.9 million tons by 5.7 percent.
During the past month, 1,790 ships crossed from both directions, compared to 1,657 in October last year, an increase of 133 ships by eight percent.
The Suez Canal is the fastest shipping route between Europe and Asia, and serves as one of the Egyptian government's main sources of foreign currency.