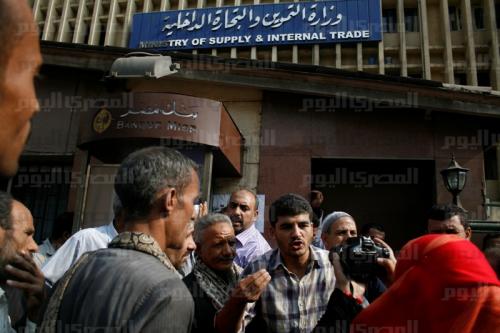 The Ministry of Supply and Internal Trade began on Thursday through 3,000 Ministry-affiliated outlets and consumer complexes disbursing the monthly subsidized supplies to citizens, in addition to LE1 billion subsidies granted by the Cabinet to citizens on the occasion of Ramadan.
June subsidized goods are worth about LE2 billion.
Minister of Supply and Internal Trade Ali al-Moselhy said that, according to the Cabinet decision, the per capita share of commodity subsidy during the month of Ramadan rose from LE21 to LE35.
About 70 million citizens listed on ration cards will benefit from the Cabinet decision, according to Moselhy.
The Ministry will continue to update the data of citizens deserving of subsidized goods until June, he said.
The Minister received a report from Mohamed Atef, Chairman of the Board of Directors of the Egyptian Company for Wholesale Trade, which distributes the subsidized goods in the governorates of Upper Egypt; and another report from Gamal al-Sharkawy, Chairman of the General Company for Wholesale Trade, which distributes subsidized goods in Lower Egypt. The reports confirmed that both companies have enough stock of basic food commodities to cover the month of Ramadan.
According to Moselhy, the Ministry aims to distribute 140,000 tons of subsidized sugar and 105 million bottles of oil during June.
Edited translation from Al-Masry Al-Youm