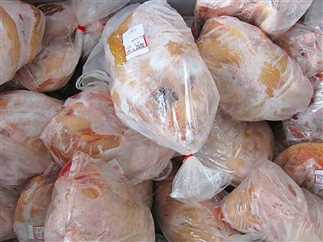 The Supply Ministry has allowed for more than 40,000 tons of frozen poultry to be offered at LE65 per kilogram in private markets and outlets affiliated with the Ministry of Supply.
These will be accessed through consumer associations, mobile cars belonging to the armed forces, or "Welcome Ramadan" exhibitions, Eid Abdel Moneim Khalil, head of the internal trade sector at the Ministry of Supply, said.
The step aims to ease the burden on the citizen, amid hiking prices.
Khalil told Al-Masry Al-Youm that the price of a kilo of frozen chicken is sold at LE65 and the weight of the chicken ranges from 1,000 to 1,300 grams, denying a hard currency crisis in importing chicken.
 Most importers have contracted large quantities of imported chicken, he added.
He attributed the crisis on market to merchants monopolizing commodities.
A Member of the Federation of Egyptian Industries, Magdy al-Waili, told Al-Masry Al-Youm that the price of frozen chicken is within everyone's reach, saying: "Why would I buy the expensive one when I can search and buy the cheap alternative?"