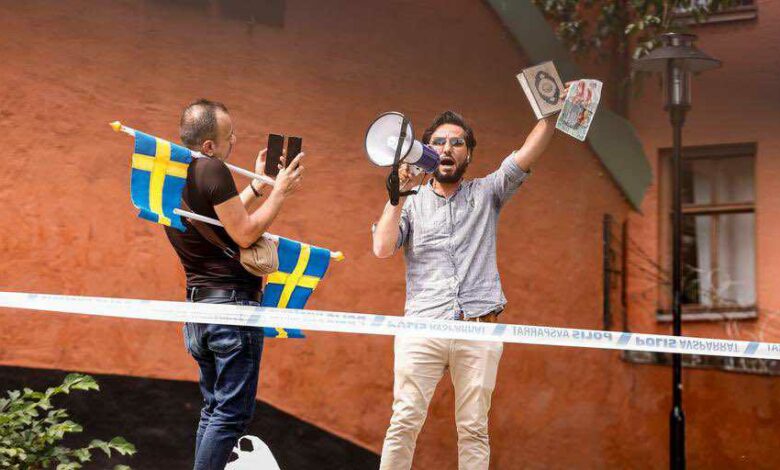 The Swedish government on Sunday condemned the burning of a copy of the holy Quran in front of Stockholm's main mosque.
An official statement from the Swedish Foreign Ministry said, "In Sweden, freedom of expression enjoys strong protection. But naturally this does not mean that the Government supports every opinion that is expressed. Public gatherings that are entirely legal can also be polarizing and offensive. Demonstrations like that held on Wednesday are just that. And they also have serious consequences for Sweden's internal safety and security.
"We are now in a situation where there is a risk of new threats to Sweden being set in motion. Experience tells us that both individuals who initiate these kinds of demonstrations and individuals who are prepared to use extreme violence in response to them often come to Sweden from other countries."
"It can be noted, for example, that the man now being investigated for the offense of agitation against a national or ethnic group following Wednesday's events is an Iraqi national who only has a temporary residence permit in Sweden."
Quran burning controversy
The Swedish police had announced its permission for a demonstration whose organizer, a young man of Iraqi origin, had planned to burn a copy of the Quran outside Stockholm's main mosque on Wednesday, which had coincided Muslim celebrations of the first day of Eid al-Adha.
This green light comes two weeks after the judiciary rejected a police decision to refuse to grant permits for two other demonstrations in Stockholm, also during which the Quran would have been burnt.
The person who submitted the request was named Silwan Momica, and he told the Swedish News Agency previously that he did not aim behind the burning of the Quran to influence Sweden's membership in NATO, but rather "only to criticize Islam."
Egypt on Wednesday harshly condemned the burning of a copy of the Quran in the Swedish capital, Stockholm, in a brazen act designed to provoke Muslims around the world on the first day of Eid al-Adha.
It described the act as violating respect for others and fueling hate speech.