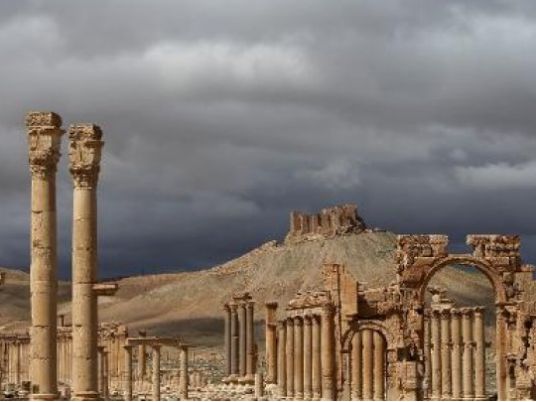 The Syrian army is in full control of the highway from Damascus to ancient Palmyra for the first time since 2014 after driving out jihadists, a monitor said on Friday.
Since troops recaptured Palmyra from the Islamic State group in March, the UNESCO World Heritage site had been accessible via Syria's third city Homs, about 150 kilometres (95 miles) to the west.
But after major advances on Thursday night, the army now controls the direct road from the capital to Palmyra, the Syrian Observatory for Human Rights said.
With the support of Russian air strikes, regime fighters "pushed IS fighters out of desert territory amounting to more than 1,000 square kilometres (390 square miles)," Observatory head Rami Abdel Rahman told AFP.
"The jihadists were withdrawing because of how intense the Russian air strikes were," Abdel Rahman said.
Palmyra's temples, colonnaded alleys and elaborately decorated tombs — some of the best preserved classical monuments in the Middle East — attracted more than 150,000 tourists a year before civil war broke out in Syria in 2011.
IS fighters first overran Palmyra in May 2015, and government troops recaptured it 10 months later.
The jihadist group retook it in late 2016, but Russian-backed Syrian forces wrested back control in March.
A decades-old ally of Damascus, Moscow has been carrying out air strikes in support of President Bashar al-Assad's troops since September 2015.
The Syrian army appears to be conducting a multi-pronged drive towards the oil-rich territory near the country's eastern borders with Iraq and Jordan.
But parts of the frontier are controlled by rebel groups backed by the US-led coalition fighting IS.
Earlier this month, coalition warplanes struck a convoy of pro-government forces headed towards a remote coalition garrison near the Syrian-Jordanian border.
The desert, known as the "Badiya", extends over some 90,000 square kilometres (35,000 square miles) and makes up about half of Syria's territory.
Syria's conflict broke out in March 2011 with protests demanding Assad's ouster.
But the popular demonstrations have since given way to a full-blown war that has killed 320,000 people and fragmented the country.
According to geography expert Fabrice Balanche, Syria's government is steadily chipping away at IS territory and now controls 46 percent of the country, compared with 36 percent in March.
Kurdish forces and IS each control 21 percent of Syrian territory, with rebels left with just 12 percent, according to Balanche.
Agence France Presse