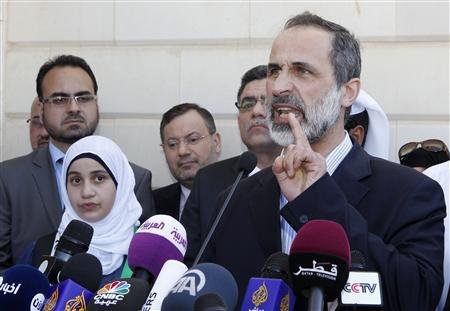 Syria's National Coalition head Ahmed Moaz al-Khatib has refiled his resignation and an interim leader is being sought, a fellow member and a source close to the main opposition group said Sunday.
Khatib insists on resigning, almost a month after first announcing he was stepping down and two weeks before NC leadership elections are scheduled to take place.
"I can confirm that Ahmed Moaz al-Khatib has resigned from the presidency," coalition member Marwan Hajjo told AFP, following a pro-opposition "Friends of Syria" meeting in the Turkish city of Istanbul.
When Khatib first resigned, "the Coalition's General Assembly did not meet to discuss his resignation. But now, I can confirm Khatib's resignation is final," said Hajjo, who heads the coalition's membership committee.
Meanwhile, a source close to the coalition told AFP on condition of anonymity that NC members have in Istanbul launched discussions on who should become the opposition's new chief.
"Coalition members are holding consultations on who should become the interim president until the scheduled meeting on 10 May," said the source.
"Khatib is resigning to denounce the international community's lack of real action on behalf of the Syrian people," Hajjo said.
"The international community, the Friends of Syria group, should be providing heavy weapons to enable the Syrians to defend themselves.
"But it is clear the international community doesn't mean anything. It only acts according to its own prerogatives," he added.
In Istanbul, the US said earlier Sunday that it would double its aid to Syria's opposition, including with new non-lethal military equipment, but paid no heed to calls for arms supplies or a direct intervention.
A moderate Sunni cleric who has widespread grassroots support inside Syria, Khatib has been a vocal critic of the international community's lack of action on the two-year Syrian conflict.
The coalition was founded in Doha last November and has since been recognized by dozens of states and organizations, including the Arab League, as the legitimate representative of the Syrian people.