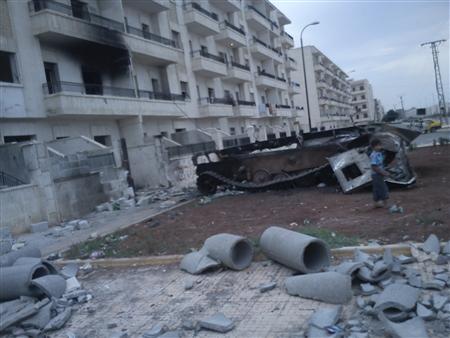 Syria's opposition leader has rejected an invitation from Russia for peace talks, dealing another blow to international hopes that diplomacy can be resurrected to end a 21-month civil war.
Russia, President Bashar al-Assad's main international protector, said on Friday it had sent an invitation for a visit to Moaz Alkhatib, whose six-week-old National Coalition opposition group has been recognized by most Western and Arab states as the legitimate voice of the Syrian people.
But in an interview on Al Jazeera television, Alkhatib said he had already ruled out such a trip and wanted an apology from Moscow for its support for Assad.
"We have clearly said we will not go to Moscow. We could meet in an Arab country if there was a clear agenda," he said.
"Now we also want an apology from [Russian Foreign Minister Sergei] Lavrov because all this time he said that the people will decide their destiny, without foreign intervention. Russia is intervening and meanwhile all these massacres of the Syrian people have happened, treated as if they were a picnic."
"If we don't represent the Syrian people, why do they invite us?" Alkhatib said. "And if we do represent the Syrian people why doesn't Russia respond and issue a clear condemnation of the barbarity of the regime and make a clear call for Assad to step down? This is the basic condition for any negotiations."
With the rebels advancing steadily over the second half of 2012, diplomats have been searching for months for signs that Moscow's willingness to protect Assad is faltering.
So far Russia has stuck to its position that rebels must negotiate with Assad's government, which has ruled since his father seized power in a coup 42 years ago.
"I think a realistic and detailed assessment of the situation inside Syria will prompt reasonable opposition members to seek ways to start a political dialogue," Lavrov said on Friday.
That was immediately dismissed by the opposition: "The coalition is ready for political talks with anyone … but it will not negotiate with the Assad regime," spokesman Walid al-Bunni told Reuters. "Everything can happen after the Assad regime and all its foundations have gone. After that we can sit down with all Syrians to set out the future."
Brahimi to Moscow
Russia says it is behind the efforts of UN mediator Lakhdar Brahimi, fresh from a five-day trip to Damascus where he met Assad. Brahimi, due in Moscow for talks on Saturday, is touting a months-old peace plan for a transitional government.
That UN plan was long seen as a dead letter, foundering from the outset over the question of whether the transitional body would include Assad or his allies. Brahimi's predecessor, Kofi Annan, quit in frustration shortly after negotiating it.
But with rebels having seized control of large sections of the country in recent months, Russia and the United States have been working with Brahimi to resurrect the plan as the only internationally recognized diplomatic negotiating track.
Russia's Middle East envoy, Deputy Foreign Minister Mikhail Bogdanov, who announced the invitation to Alkhatib, said further talks were scheduled between the "three B's" — himself, Brahimi and US Undersecretary of State William Burns.
Speaking in Damascus on Thursday, Brahimi called for a transitional government with "all the powers of the state," a phrase interpreted by the opposition as potentially signaling tolerance of Assad remaining in some ceremonial role.
But such a plan is anathema to the surging rebels, who now believe they can drive Assad out with a military victory, despite long being outgunned by his forces.
"We do not agree at all with Brahimi's initiative. We do not agree with anything Brahimi says," Colonel Abdel-Jabbar Oqaidi, who heads the rebels' military council in Aleppo province, told reporters at his headquarters there.
Oqaidi said the rebels want Assad and his allies tried in Syria for crimes. Assad himself says he will stay on and fight to the death if necessary.
In the rebel-held town of Kafranbel, demonstrators held up cartoons showing Brahimi speaking to a news conference with toilet bowls in front of him, in place of microphones. Banners denounced the UN envoy with obscenities in English.
Diplomats impotent
Diplomacy has largely been irrelevant to the conflict so far, with Western states ruling out military intervention like the NATO bombing that helped topple Libya's Muammar Gaddafi last year, and Russia and China blocking UN action against Assad.
Meanwhile, the fighting has grown fiercer and more sectarian, with rebels mainly from the Sunni Muslim majority battling Assad's government and allied militia dominated by his Alawi sect, an offshoot of Shia Islam.
Still, Western diplomats have repeatedly touted signs of a change in policy from Russia, which they hope could prove decisive, much as Moscow's withdrawal of support for Serbian leader Slobodan Milosevic heralded his downfall a decade ago.
Bogdanov said earlier this month that Assad's forces were losing ground and rebels might win the war, but Russia has since rowed back, with Lavrov last week reiterating Moscow's position that neither side could win through force.
Still, some Moscow-based analysts see the Kremlin coming to accept it must adapt to the possibility of rebel victory.
"As the situation changes on the battlefield, more incentives emerge for seeking a way to stop the military action and move to a phase of political regulation," said Dmitry Trenin, director of the Carnegie Moscow Center.
Meanwhile, on the ground the bloodshed that has killed some 44,000 people continues unabated. According to the pro-opposition Syrian Observatory for Human Rights, a monitoring group based in Britain, 150 people were killed on Thursday, a typical toll as fighting has escalated in recent months.
Government war planes bombarded the town of Assal al-Ward in the Qalamoun district of Damascus province for the first time, killing one person and wounding dozens, the observatory said.
In Aleppo, Syria's northern commercial hub, clashes took place between rebel fighters and army forces around an air force intelligence building in the Zahra quarter, a neighborhood that has been surrounded by rebels for weeks.