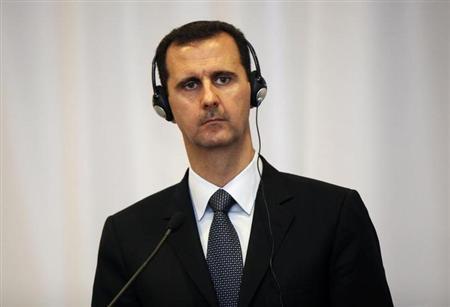 Syrian President Bashar al-Assad, fighting to crush a two-year-old uprising against four decades of rule by him and his late father, said on Wednesday the upheaval in Egypt was a defeat for political Islam.
"Whoever brings religion to use in politics or in favor of one group at the expense of another will fall anywhere in the world," Assad was quoted as telling the official Thawra newspaper, according to an official Facebook page.
"The summary of what is happening in Egypt is the fall of what is called political Islam."
Relishing the possible downfall of one of Assad's most vocal critics, Syrian television carried live coverage of the huge street demonstrations in Egypt demanding the departure of President Mohamed Mursi.
Assad's late father, Hafez al-Assad, used the military to crush an armed insurgency against his rule led by the Muslim Brotherhood, killing many thousands in the conservative city of Hama, which became a centre of pro-democracy demonstrations when the uprising against the younger Assad erupted in March 2011. Thousands of leftists were also jailed and tortured.
The Syrian branch of the Muslim Brotherhood became one of the most powerful factions behind the mostly Sunni Muslim uprising against Assad, who belongs to the Alawite sect, an offshoot of Shi'ite Islam, and is being helped by Lebanon's Shi'ite Hezbollah militia.
Morsy has expressed support for foreign intervention against Assad and attended a rally two weeks ago calling for holy war in Syria.
A month ago, Syrian authorities responded to a wave of protests against Turkish Prime Minister Tayyip Erdogan, another fierce opponent of Assad, by calling on him to halt what it said was violent repression and step aside.