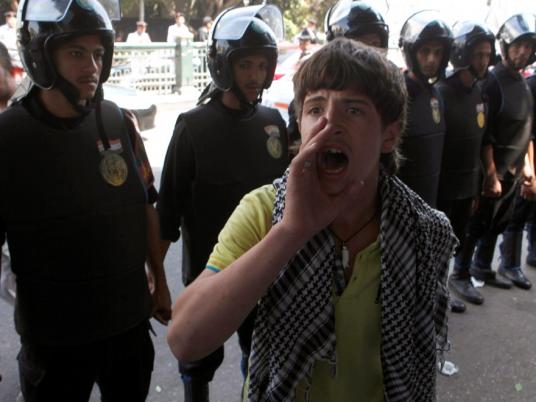 DAMASCUS — Syria on Sunday slammed as "hostile" a French decision to host an ambassador from the opposition National Coalition, as regime forces bombarded southern districts of the capital and clashes raged nationwide.
France on Saturday invited the group to send an envoy to Paris, after President Francois Hollande met National Coalition leader Moaz al-Khatib.
"France is acting like a hostile nation," National Reconciliation Minister Ali Haidar told AFP in key ally Tehran. "It's as if it wants to go back to the time of the occupation," he added, of the French mandate in Syria after World War I.
Haidar was speaking as Iran prepared to host talks between Syrian officials and opposition groups tolerated by President Bashar al-Assad's regime.
No National Coalition representatives were invited to the talks.
"Invitations were extended to all those who accept dialogue, not to those who refuse to talk as a matter of principle," Haidar said.
Opening the meeting, Iranian Foreign Minister Ali Akbar Salehi warned against sending weapons to Syrian rebels, saying that this would threaten regional stability and increase the "risk of terrorism."
The opposition coalition, formed in Doha on 11 November, says it is committed to building a provisional government composed of representatives of all ethnic and religious groups in conflict-ridden Syria.
But it refuses to engage with the Damascus regime before Assad's departure.
Despite the French offer to host an envoy, Paris remained cautious on the issue of supplying weapons to Syrian rebels amid fears of the conflict spreading.
Israeli artillery responded early on Sunday after gunfire from Syria hit an army vehicle but caused no casualties, Israel's military said, in the latest spillover of violence across the ceasefire line.
"Shots were fired at IDF (Israeli army) soldiers…in the central Golan Heights," an army spokeswoman told AFP, adding that the Syrian fire hit "a vehicle."
"Soldiers responded with artillery fire towards the source of the shooting… a direct hit was identified," she said.
Israel has complained repeatedly to the United Nations after several such incidents.
In Damascus, government artillery bombarded the southern district of Hajar al-Aswad, the Syrian Observatory for Human Rights said.
The Britain-based watchdog, which relies on a network of activists and medics in civilian and military hospitals to compile its tolls, said one civilian was killed and several wounded.
Several mortar rounds also hit the mainly Alawi regime heartland of Mazzeh in west Damascus, which state television blamed on "terrorist groups."
Aleppo and its environs in the north too saw heavy combat, the observatory said, reporting fierce clashes at regime Base 46 in the province, which has been besieged for weeks.
Artillery fire also hit the provinces of Daraa in the south and Deir Ezzor in the east, where rebels on Saturday said they seized Hamdan airport, a helicopter gunship base.
Sunday's fighting came a day after at least 146 people were killed nationwide, according to the Observatory, which has put the death toll in more than 20 months of conflict at upwards of 39,000.
The post of National Coalition envoy to France is to be filled by academic Monzer Makhous, although it was unclear if this would happen before a planned provisional government is formed.
Coalition chief Khatib in Paris on Saturday repeated the group's promise to build a government of technocrats.
"There is no problem. The coalition exists and we will launch a call for candidates to form a government of technocrats that will work until the regime falls," he told reporters.
But he appeared to make little progress on his call for the West to arm the insurgency.
"The (rebel) Syrians need military means but the international community also has to exercise control," Hollande said, acknowledging that France could not act without EU agreement because of the strict embargo on arms deliveries to Syria.
EU foreign ministers are due to discuss the embargo in Brussels on Monday.
France on Tuesday became the first Western power to recognize the opposition coalition as the sole representative of the Syrian people.
Turkey and the Gulf Arab states have also officially recognized it, and Britain's foreign minister William Hague said on Friday London was considering following suit.