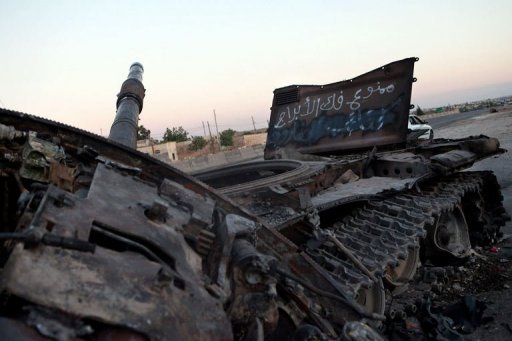 Syrian forces bombarded a string of towns in Aleppo province on Saturday, a day after global powers gathered in yet another effort to chart a political end to the revolt against President Bashar al-Assad.
"Regime forces are attempting to regain control over this region, where they suffered heavy casualties over the past months to rebels," the Syrian Observatory for Human Rights said, adding that the bombardment killed one civilian and wounded dozens in the town of Qabtan al-Jabal.
"A large number of families have been displaced from the area for fear of shelling and lack of water, electricity and medical services," the watchdog added of the attacks in the northern province.
Shelling also continued in the central city of Homs, under bombardment by the army for more than a month.
The Syrian General Revolutionary Authority reported that shelling intensified through the night in the neighbourhoods of Old Homs and Hamidiyeh, where "many people were buried under the rubble" of a collapsed building.
The observatory said 93 people, mostly civilians, were killed across Syria on Friday as protesters took to the streets in several provinces after being urged to call for a "People's liberation war."
On Friday, some 100 nations and organisations meeting in Paris called on the UN Security Council to adopt a transition plan for Syria backed by economic sanctions if the regime refuses to comply.
Concretely, they asked the council to urgently adopt a six-point peace plan drawn up by UN-Arab League envoy Kofi Annan under the UN Charter's Chapter VII.
But the final statement stressed that any immediate action under Article 41 provided only for non-military intervention.
The Annan plan, which insists on a cessation of violence by all sides, has made little headway and activists say an estimated 16,500 people have now died since the uprising began in March last year.
"We should go back and ask for a resolution in the Security Council that imposes real and immediate consequences for non-compliance, including sanctions," ranging from economic measures to military force, US Secretary of State Hillary Clinton said.
In some of her toughest comments yet, Clinton said she thought China and long-time Syrian ally Russia did "not believe they are paying any price at all for standing up on behalf of the regime."
Russian Deputy Foreign Minister Sergei Ryabkov "categorically" rejected "the formulation that Russia supports Bashar al-Assad's regime in the situation that has developed in Syria."
Although Moscow did not attend the meeting, a diplomatic source insisted that "Russian political and security circles are changing their position."
The meeting took place as news emerged that a general from Assad's most trusted inner circle had defected in what would be a major blow to the regime as it battles the opposition.
General Munaf Tlass, a boyhood friend of Assad, was a general in the elite Republican Guard charged with protecting the regime. He is the son of former defence minister Mustafa Tlass, a close friend of Assad's late father and predecessor, Hafez.
A source close to the regime said he was on his way to Paris to join his wife and his sister, Nahed Ojjeh, widow of Saudi millionaire arms dealer Akram Ojjeh.
Tlass was sidelined by the regime more than a year ago, after he was deemed unreliable.
His defection comes two weeks after a colonel in the air force won political asylum after landing his MiG-21 fighter jet in neighbouring Jordan.
In other developments, UN chief Ban Ki-moon called on Friday for scaling down an observer mission in Syria to refocus on political efforts to end the bloodshed.
He said the observers' mandate should remain unchanged, though with a "reduced military observer component," and the focus shifting from monitoring a ceasefire that has never taken hold toward a more political role.