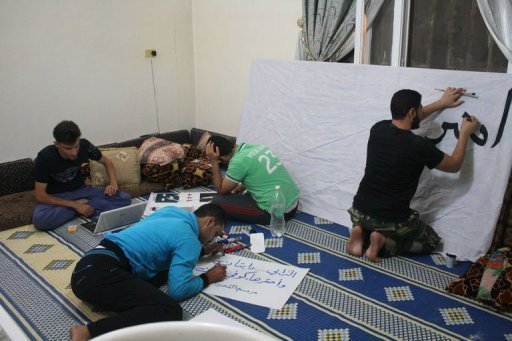 Every Friday in Qusayr, Syrians protest against Bashar al-Assad, so every Thursday, a group of young artists meet in a makeshift studio to paint the placards and banners used to ridicule him.
"The day Bashar al-Assad falls, I will draw his face on a rocket and fire him towards the Moon, so I never have to see his face again!," Mazir, a young Syrian artist exclaims, laughing.
Along with other young artists in the town, in the central Syrian province of Homs, she spends her Thursdays inside a studio, illegally painting anti-Assad placards and banners.
They are delivered the following day to demonstrators who march through the streets of the town and its surrounding villages, as they, like countless Syrians, have since the beginning of an uprising against Assad's regime in March last year.
Qusayr was once a home to 50,000 people, but its population has shrunk to around 10,000 as many families have fled daily shelling and house-to-house fighting.
"Each design, each slogan is to ridicule Bashar — to denounce him as a liar, a murderer, as arrogant. We want people who take to the streets to demand their freedom to see his head on the body of a donkey, so they can mock him and be unafraid," Mazir says as she puts the finishing touches on a caricature.
"Our weapon is our creativity," adds Ayman, a former architecture student who has joined the collective. "In this revolution, everyone has a role to play. Some will fight, others will draw."
Ayman later paints on a large white sheet pinned to the wall: "Bashar — a kick in the ass and you will learn."
"We do not want him dead — just for him to go and let us live in peace," he says. "It is time for us to be the masters of our destiny."
But while the group of artists joke and laugh, their support for the uprising against Assad's regime has drawn attention and, with it, threats.
"One night," Mazir recalls, "the secret police stormed my house and took my father. They held him for 10 days and tortured him. All this because a neighbor told them about me."
"But I am not afraid — if I die, it will be knowing that I have helped overthrow the regime and bring freedom to all Syrians," she adds proudly.
Though Mazir and Ayman spoke of the role their paintings and caricatures could play in efforts to oust Assad and his regime, others within the studio said art alone would do little to overthrow the embattled president.
"I am delighted to paint, and help my friends organise the demonstrations, but I am well aware that it will not be caricatures that will end Bashar's regime," says Ibrahim, who deserted the Syrian army to join forces with Syrian rebels. "It will be weapons."
"We can only fight violence with violence. And now, it is they who are afraid," he adds.
The artists' collective has already had an impact, drawing young followers hoping to contribute to Qusayr's rallies.
Two sisters — aged 15 and 23 — have for a month brought their own art supplies to take part in the "revolution."
Doha, the teen, impressed protesters with her artistic abilities and is now one of the most popular artists in Qusayr.
Her elder sister Fatima, an English teacher, explains that while "the young men joined the FSA (Free Syrian Army) and us, the women, were confined to our homes to watch them be killed."
"We wanted to bring our small contribution to the bigger effort."
The pair divide the work between them — Doha does the drawing and Fatima the colouring.
"I can do 20 of these a week," Doha declares.
Fatima adds that her sister's work "criticises the absence of freedom of expression. In our school textbooks, the prevailing view was what the regime wanted us to think was reality."
"The lives of Syrians have always been a tragedy," she says. "For years, we have been subjected to a regime that oppresses us. But now, it is done."
"That may seem paradoxical, because they are bombing us, they are killing us, but we have our freedom to choose our destiny, freedom or death."
Flashing a broad smile, Doha says: "Our drawings and paintings are our way to take revenge on the regime."