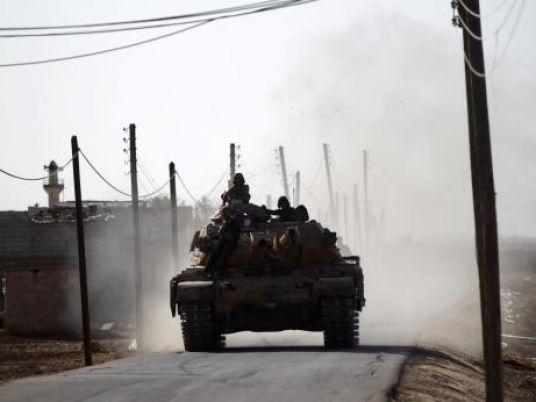 The Syrian government has called on the United Nations to force Turkey to pull "its invasion forces" out of Syria, state media said on Friday.
Turkey's military shelled Syrian government forces and their allies in northern Syria on Thursday, causing deaths and injuries, state-run SANA news agency reported.
Turkey launched its first major military incursion into Syria in August, deploying tanks and air power in support of rebel groups opposed to Syrian President Bashar al-Assad.
Turkey's operation aims to drive Islamic State from the border and stop Kurdish militias from gaining ground in their wake.
Syria's foreign ministry urged the UN secretary general and security council to "force Turkey to withdraw its invasion forces from Syrian land and stop the attacks", SANA said.
The Syrian government blames Turkey for "killing tens of thousands of its innocent sons and destroying Syrian infrastructure", it added.
Northern Syria has become an increasingly complex battlefield in the multi-sided war, with the Russian-backed Syrian army, Turkish-backed rebels and US-backed militias all waging separate campaigns against Islamic State.
Ankara is particularly concerned about the Syrian Kurdish YPG militia which it considers to be an extension of the Kurdistan Workers Party (PKK) that has fought a three-decade insurgency inside Turkey.
(Reporting by Tom Perry and Ellen Francis; Editing by Gareth Jones and Ed Osmond)