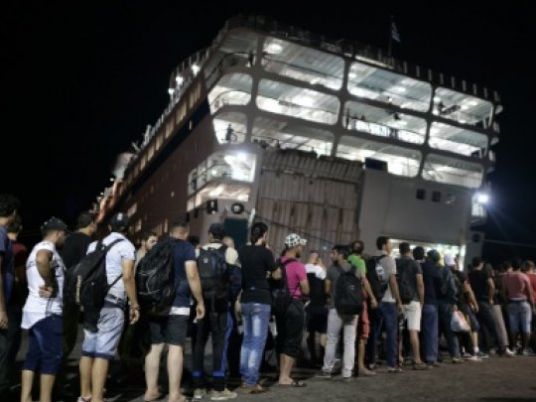 Scores of Syrian refugees who recently arrived on the Greek island of Kos began registering early Sunday on a ship sent by the government following tensions over a huge influx of arrivals.
The Eleftherios Venizelos, docked in Kos since Friday, will be moored for about two weeks, officials say.
Officials on board will register Syrians who are already on the island as well as any newcomers, regardless of nationality, according to UN refugee agency spokeswoman Stella Nanou.
A group of migrants who had just been rescued at sea were brought to the entrance of the ferry, an AFP journalist said, though it was unclear whether they could be received immediately.
Syrians, most of whom have been living rough on Kos while waiting for permission to leave for Athens, would be allowed to stay on the ferry throughout their registration process, Nanou told AFP.
"We hope the procedure will be smoother now. We just want to be registered so we can leave to Athens," said Mohammad from Syria's divided city of Aleppo who refused to disclose his family name.
Non-Syrians already on the island must register with police, UNHCR's Nanou said.
In a sign of tension between migrant groups, some 20 Iraqis at the entrance to the harbor protested, demanding to be allowed onto the ship for speedier processing.
Earlier this week, about 2,000 refugees and immigrants were relocated to a football stadium.
Overwhelmed police beat them with truncheons and sprayed fire extinguishers during a scuffle on Tuesday.
Since then, the number of migrants on the island has decreased from some 7,000 to some 2,500, according to Greek police.
Hundreds of refugees could be seen leaving Kos on a ferry to Athens on Saturday.