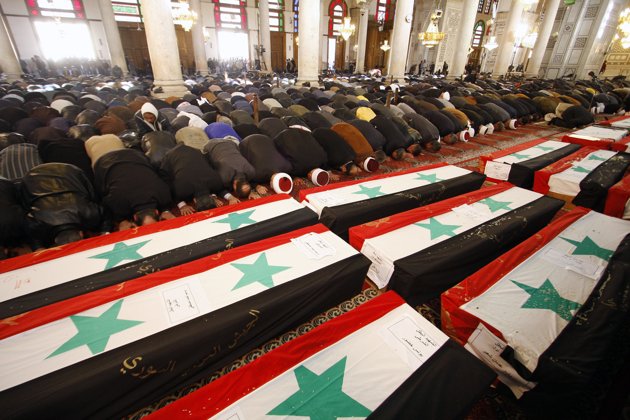 Seven Syrian torture survivors, two lawyers and a human rights group have filed a criminal complaint in Germany against secret service officials of President Bashar al-Assad's regime, the initiative said Thursday.
The complaint names and seeks international arrest warrants against six high-level officials of the Syrian Military Intelligence Service, in whose Damascus prisons the claimants say they were tortured or witnessed torture.
According to witness testimony, prisoners were beaten with pipes, sticks and meat hooks on chains, given electric shocks, burnt with cleaning chemicals and stabbed with pencils, the broken-off tips left inside their flesh.
"We cannot just look on at the horror of Syria," said Wolfgang Kaleck, head of the Berlin-based non-profit legal organisation that launched the case, the European Center for Constitutional and Human Rights (ECCHR).
"We have to start describing what is happening in Syria with words and legal categories," he said in a statement.
"Germany can and must react to grave human rights violations such as torture, massacres and sexual violence in Syria."
The case accuses the Assad regime of having carried out "systematic and widespread torture targeting opponents and activists… for several decades".
Germany's federal prosecution service welcomed the complaint, with a spokeswoman saying it may provide further evidence to support its own ongoing investigation into Syrian war crimes launched in 2011.
The new complaint alleges crimes against humanity and war crimes committed in three Damascus prisons between October 2011 and July 2015, based on the testimonies of 12 witnesses, seven of whom are complainants.
The Syrian ex-detainees, men and women aged 26 to 57, are joined by Syrian lawyers Anwar al-Bunni and Mazen Darwish, who have both themselves been victims of torture and abuse in Syrian regime cells.
"In Syria there is total impunity, which produces further violence. Without justice there will be no political solution to the conflict," said Darwish.
Bunni added: "Massive human rights violations must not remain unanswered. This is clear since the Nuremberg trials. Torture is absolutely forbidden."
The complaint was launched under the principle of universal jurisdiction, which allows the German judiciary to become active in cases where neither the victims nor the perpetrators are German citizens, said the ECCHR.