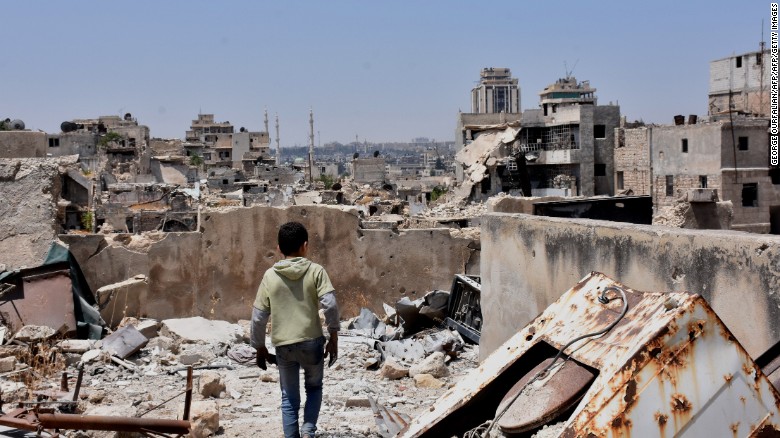 Istanbul (CNN) – Abdel Kafi al-Hamdo cannot get Ukraine out of his mind. The 36-year-old Syrian spends his days following the news, tweeting messages of solidarity and teaching his five-year-old daughter Lamar how to draw the Ukrainian flag. He says few can understand what Ukrainians are going through as unimaginable images of war, death and suffering are transmitted around the world.
"No one can understand Ukrainians," Hamdo told CNN. "No one in the world can understand them more than Syrians."
For English teacher Hamdo, watching Russia's war on Ukraine has brought back memories of the darkest days of his life — the siege of his city, Aleppo, in 2016.
Russia invaded Ukraine in late February.The war has caused hundreds of civilian deaths, including dozens of children, and forced more than three million people to flee the country.
But six years before its Ukraine war, Russia began another ruthless military operation thousands of kilometers away in Syria — to prop up the Bashar al-Assad regime. Victims of that war say the scenes from Ukraine on their television screens look hauntingly familiar.
With the help of Russia, President Bashar al-Assad's regime and its allies turned eastern Aleppo into a kill box. Three-hundred thousand of its residents were besieged, cut off from food and bombed into submission in December, 2016. It was a tactic used throughout the war and across the country, including alleged chemical attacks, which it denied.
Those who survived the shelling had to leave behind what was left of their homes.
"They destroyed us; they destroyed our psychology," Hamdo said. He recalled going to a hospital days before he left the city only to find himself walking over bodies to get through to his friend.
"This is what will happen in Ukraine," he said. "What's going on in Ukraine is only the beginning."
Some in Syria say their country was the canary in the coalmine that the world chose to ignore. It was a testing ground for Russia's war machine and a preview of its ambitions closer to home.
Hamdo was among a group of Aleppo residents who chronicled their life under siege. They posted daily videos on social media, appealing for the international community to save them. They say their calls fell on deaf ears.
"What's affecting me a lot is that the world is repeating the same mistake [in Ukraine]," an emotional Hamdo told CNN. He said it pains him that condemnation of Russia's war in Ukraine was as if "it's [Russia's] first war or first killing."
"I cannot even imagine why people were blinded for 10 years," he said.
In 2013, the Obama administration said that the Assad regime crossed a "red line" by using chemical weapons on its own people. But Western states decided against military intervention.
Then, in 2015, the Russian military intervened to prop up a weakened Assad, turning the tide of war in his favor.Today, Russia maintains a presence in Syria and Assad has regained control of most of the country. Several Arab states have re-established diplomatic ties with his regime.
For Russia, the intervention had multiple advantages. It solidified its ally's power, gave it a foothold in the region and invaluable military experience.
The Russian defense minister even boasted about using Syria as a testing ground for the military.
"We have tested over 320 [types of weapons], in fact, we have tested all the weapons, except for easy-to-understand versions [in Syria]," Defense Minister Sergey Shoigu was quoted by Russian state media as saying in August.
Ismail al-Abdullah, a member of the White Helmets volunteer rescue group, witnessed firsthand the impact of those weapons on civilians. He was among the last group of Aleppo residents forced out of the city in 2016, having witnessed the pummeling of Syria's second city by airstrikes. "Aleppo was like doomsday," he told CNN.
"I saw buildings collapsed on the heads of families and children," he said. "In one of the incidents 34 people were killed under a collapsed building by the bombing." Abdullah said that building was struck by a bunker buster bomb.
During its military intervention in Syria, Russia has unleashed an indiscriminate bombing campaign on population centers, having struck hospitals, markets and schools.
The United Nations' Independent Commission for Inquiry on Syria has said regime forces and Russia have indiscriminately bombed densely populated areas, having targeted and killed civilians.
Warring parties in the country have enabled the violation of nearly every core human right and nearly every war crime, Commission Chair Paulo Sergio Pinheiro said in Geneva earlier this month. "We can only hope that world leaders are doing everything they can to avoid a similar fate for Ukraine."
Despite evidence collected by various organizations and witness testimony, Russia denies committing war crimes in Syria.
Many Syrians feel that the impunity with which Russia acted in Syria may have emboldened President Vladimir Putin to invade Ukraine.
"What happened in Syria is like a lesson for the world that if they did something in the first place to help the Syrian people to stop Russia, maybe this would not be happening," Abdullah said. "Russia would have stopped in the first place in Syria and would not have the courage to invade Ukraine."
The White Helmets, who knows Russia's playbook all too well, expressed concern for the situation in Ukraine and has offered tips to Ukrainians.
"Don't respond to any bombing scene until the sky is clear of war planes," Abdullah said, warning Ukrainians about Russia's "double tap" bombings.
He lost colleagues in several of those attacks, where warplanes drop bombs on an area then strike the same area again in a few minutes, often killing first responders and those injured from the first strike.
"Do not walk in open roads," he added. "There will be snipers who will shoot you … they do not care if you are a civilian, a rescue worker or a paramedic."
Members of Abdullah's team gather at their station in Idlib, the last rebel stronghold in Syria. They are in a constant state of alert. The ceasefire Russia and Turkey brokered there in 2020 is fragile. In the second half of 2021, the UN documented at least 14 attacks by pro-government forces that killed children including those on their way to school.
At refugee camps nearby, where wave after wave of Syrians displaced by those Russian airstrikes are now pressed against the Turkish border. They watch the war in Europe closely. Many feel their fate is tied to that of Ukraine.
"I am following the news in Ukraine and wish that Ukraine will win the war, so Russia does not go further," 48-year-old Umm Hussein said. "Here in Syria they killed, destroyed and displaced us, making us refugees. If Russia wins [in Ukraine], it will go further and attack us."
Despite their fears, there is empathy in the camps for the suffering from a war in faraway Ukraine.
"We are very emotional and affected by the scenes from Ukraine. As we see children dying, we are crying for them. We feel [for] them as we lived the same suffering," she said.