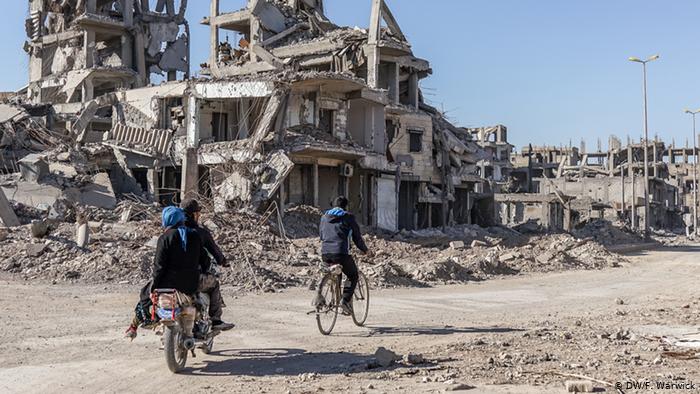 Two explosions in Syria's northern city of Raqqa on Saturday claimed the lives of 10 people, the UK-based Syrian Observatory for Human Rights (SOHR) said. Twenty people were wounded in the attacks, which occurred in two different locations in the city, it added.
Raqqa once served as the de facto capital of the "Islamic State" (IS) terror group. The blasts occurred after iftar, the meal after sunset that breaks daylong fasting during the Muslim holy month of Ramadan.
Read more: Iraqis wonder what will follow 'Islamic State' in Mosul
SOHR said the first blast was a roadside bomb in the city center. The second one was carried out by a suicide attacker driving a vehicle at a checkpoint of US-backed fighters in the central Naim Square, killing five fighters and five civilians.
"The car bomb attack was targeting an SDF position," SOHR Director Rami Abdel Rahmane told AFP, referring to the Syrian Democratic Forces (SDF), a Kurdish-Arab alliance backed by Washington which took control of the city from IS in October 2017.
No one has so far claimed responsibility for the blasts. Similar suicide attacks have been carried out in the past by IS members.
IS jihadis seized large swathes of Iraq and Syria in 2014, declaring a "caliphate" in areas it controlled.
Several offensives with US-led coalition backing chipped away at the "caliphate" until it was declared eliminated on March 23. Blasts and hit-and-run attacks have continued in both countries, with IS jihadists still scattered in the region.