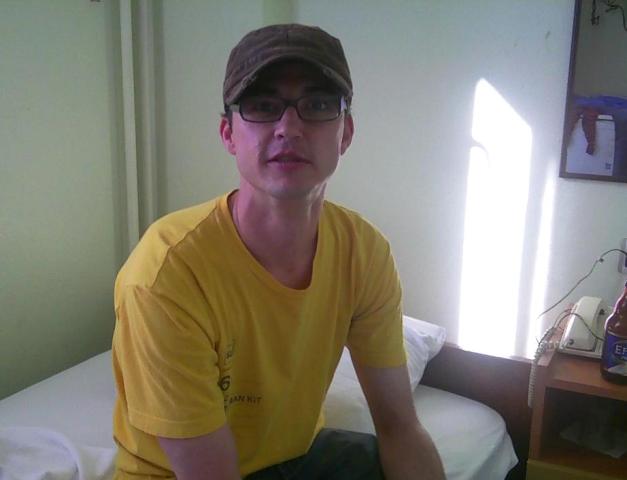 FETHIYE, Turkey – "It doesn't matter what we do for Gaza this month or this year. What matters is how many years we stay with Gaza," said David Heap, a member of the steering committee of "Tahrir," a Canadian ship currently headed for the Gaza Strip in a show of solidarity with the besieged Palestinian territory.
His comments came a day before the boat left the Turkish port of Fethiye carrying some 12 people in the most recent attempt to break the siege after Greek authorities prevented a flotilla attempting to depart from that country in July.
The boat's name easily resonates with Egyptians, who occupied the Cairo square of the same name for 18 days last winter demanding freedom from a three-decade-long oppressive regime. "When the media asks me about the name 'Tahrir,' I tell them Tahrir isn't an Egyptian name or an Arabic name," Heap said. "Tahrir means liberation and it's a universal name."
This idea of the universality of freedom unites the diverse delegations setting sail on the flotilla to break the Israeli siege of Gaza.
Nicole McGrath and Robert Lovelace are a perfect example. Lovelace is a Canadian national who is descended from the native population of Canada, before Europeans arrived. This native population is now often described as economically and politically marginalized. Due to bureaucratic complications in Turkey Lovelace and McGrath were not allowed to be on board the boat, but they still offered their support.
"I am interested in helping the people of Gaza, because at home, many policies are enacted against the Indians [native population] of Canada that are similar [to Israel's policies toward Palestinians]. The Indians of Canada have experience with settlements, for example. They lost their land, their right to their resources and the government works hard to control them to benefit from their resources," said Lovelace, a university professor.
"I see a clear intersection with Gaza, and you can't free yourself and allow others to continue to suffer. Everyone has to be liberated together."
His wife, McGrath, also sees different struggles for freedom as a united human quest. "All of those struggles are similar in conscience. It's one system [of oppression]. God knows how long it would take it to fall and it won't be easy. But it's in people realizing that it is not working that there is hope," she said.
As McGrath and Lovelace came from Canada to be on a boat bound to Gaza, Michael Coleman came from the other end of the world. The Sydney, Australia-based youth worker had also tried to break the siege back in July with the Canadian boat sailing from Greece. His story goes back to just after the 2010 Gaza Freedom Flotilla incident, when Israeli commandos stormed the Mavi Marmara ship that had set off from Turkey and killed nine activists in international waters. The incident stirred a wave of global fury against Israel and soured its relations with Turkey, a former ally.
Coleman recalls an activist from the flotilla who came to Australia and gave a speech. "At the end, she asked, 'Who is going on the next flotilla?' and we all raised our hands," Coleman said. After that, he and others began collecting money to buy the boat Tahrir.
The boat sailing today from Turkey is a joint venture between Canadian, Australian, Belgian and Danish activists.
Coleman has gone as far as anyone to challenge the siege. In July, when a flotilla was supposed to leave Greece for Gaza, Coleman found himself challenging what he calls "'the outsourcing of the Israeli blockade of Gaza to European countries" by positioning himself in a small boat in front of the Greek coast guard to get in the way of their efforts to stop the Canadian ship from leaving port.
"We were arrested and sentenced to 30 days in [in jail] Greece. Luckily, that [sentence] was suspended. I am more than happy to do it again. We need a chance to get to Gaza and challenge the Israeli blockade, as opposed to challenging its outsourcing to Europe alone," Coleman said.
Finding a suitable port of departure has been a challenge for the flotillas. "In 2010, the best country for the flotilla to leave from was Greece, but that wasn't the case in 2011. The eastern Mediterranean is changing," said Heap.
"If one is leaving in late 2011 or 2012, there would be more countries to choose from, which is good, because it makes it unpredictable for the Israeli forces," said Heap.
But this diversity of options in the eastern Mediterranean doesn't mean yet that the flotilla is ready to leave from an Egyptian port. In July, as the Greeks stopped the flotilla from departing, Al-Masry Al-Youm launched a popular initiative inviting the flotilla to set sail from Egypt.
"We were impressed by the call. Today if I am to bet on a country's civil society, I would bet on Egypt because of its impressive track record," said Heap. But he believes that Egypt's revolutionary struggle is still continuing and it is showcased in Egypt sponsoring the blockade itself by making compromises on its decision to open the Rafah border crossing. While in May 2011 the Rafah border crossing was opened for Palestinians, concerns rose about the restrictive nature of this opening as many were denied passage for various reasons.
Heap, who protested in Tahrir Square in 2009 with a group of international activists against the Egyptian government's prevention of the Gaza Freedom March to cross into Gaza via Rafah, remains hopeful. He recalls the oppressive security apparatus of the Mubarak regime, and says he is not surprised that Egyptians revolted against it a year later.
"You don't stop the dependence of a military with decades of billions of dollars in aid from the United States. We see a tug of war between the military and the people. But we are rather optimistic," Heap said.