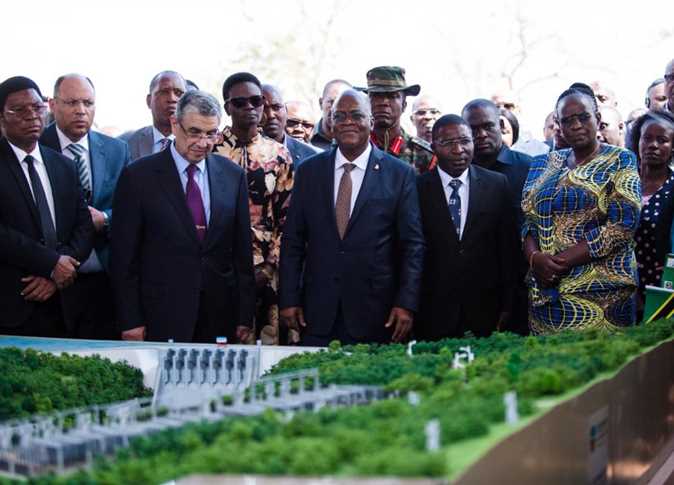 Tanzanian President John Magufuli, Egyptian Electricity Minister Mohamed Shaker and several senior Tanzanian officials laid the cornerstone for the hydroelectric Stiegler's Gorge dam project on Saturday.
The Tanzanian president praised Egypt's relations with Tanzania and expressed his confidence in the project's completion, a dream for the Tanzanian people to provide clean energy; he pointed out that Tanzania loses 400 hectares of wood per day for energy.
Magufuli explained that the dam project is located on only two percent of the Selous Game Reserve, and that this project will contribute to the preservation of the environment, create more jobs for Tanzanians, and put Tanzania onward the path of development in establishing factories and the various activities that depend on energy.
Shaker on his part said that the dam project would become a milestone of cooperation between the two countries in the field of energy.
The Minister added that this project allows the generation of energy, which contributes to achieving the United Nations' goals for sustainable development, alongside implementing the Renewable Energy Initiative in Africa.
Shaker added that Egypt will stand by Tanzania hand in hand through transferring technology and expertise, and that the Ministry of Electricity aims to provide 50 training opportunities for Tanzanians at the Ministry's training centers within Egypt.
The power station would be located across the Rufiji River at the Stiegler's Gorge in the Selous Game Reserve, which is located in the Morogoro region and lies 220 kilometers southwest of Dar es Salaam, the commercial capital and largest city of Tanzania.
The owner of the project is the Tanzanian Ministry of Energy, while Egyptian companies Arab Contractors and Elsewedy Electric are constructing the project.
The project aims at generating electricity of 2,115 MW to provide energy needs in Tanzania, as well as controlling water levels during flood periods and provide Tanzania's water needs.
Edited translation from Al-Masry Al-Youm