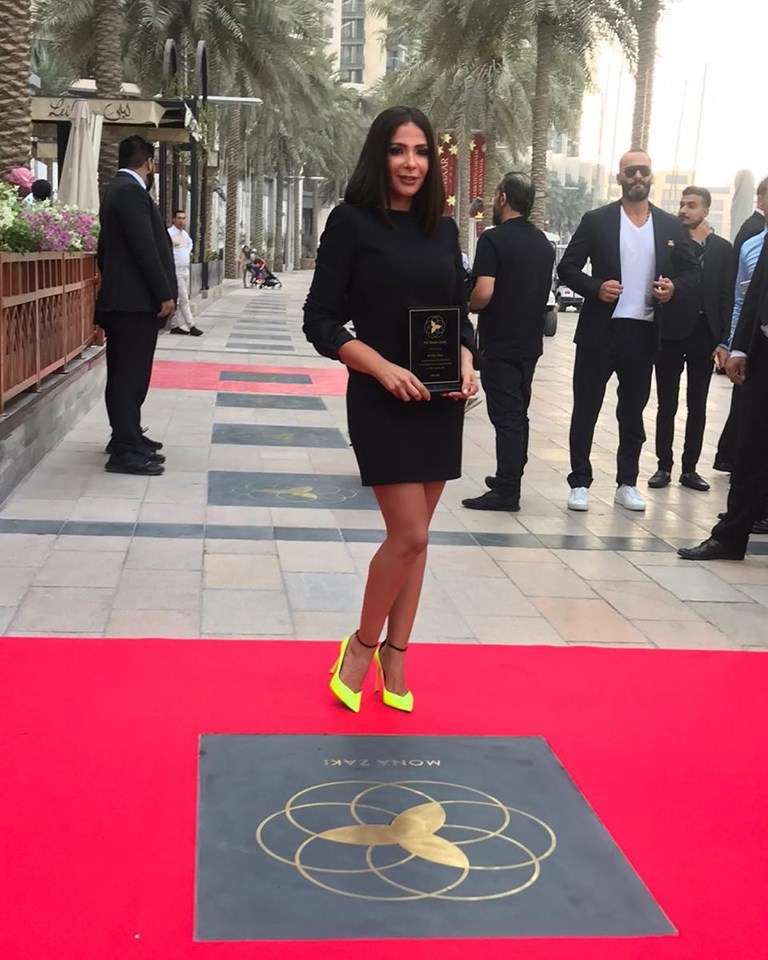 "The Dubai Stars," a new walk of fame located in Dubai, honored on Sunday, October 21 four Egyptian megastars with a decision to place their names in Dubai's new celebrity corridor in downtown. The honorees are the celebrated actor-couple Mona Zaki and Ahmed Helmy, pop music icon Amr Diab, and prominent footballer Mohamed Salah.
Their names will rest alongside those of 400 other celebrities from across the world; these names are the first bath to be carved into the floor, but hundreds more will come. Walking along the path, one will see names of prestigious public figures from diverse sectors including, film, music, sports, fashion, business, literature and more.
In light of the launch of Dubai's latest attraction, a press conference was held in Dubai and attended by many of the honored superstars, including the prominent honored Egyptian couple, Indian actress Sonam Kapoor, Emirati singer Balqees Fathi, renowned pop singer Atif Aslam and more, who were all introduced on the dazzling alley.
On The Dubai Stars' official Instagram account, Arab stars greeted Zaki, calling her "the most talented" and the most "kind-hearted" actress in the Arab world. About the honor jointly granted to the couple, Zaki said in a press conference:
"It's such wonderful news. We understand and appreciate each other's works. When he's shooting, I give him all the love, the care and the privacy he needs. He does the same with me and I am happy for us."
Helmy also celebrated the recognition, asserting that art is a big responsibility that, when successfully handled, produces valuable results.
Other Arab stars paid tribute to all Diab's revolutionary contributions to Middle Eastern music. They praised his genre-related innovations that have reformed audiences' perceptions of music.
After adding the first 400 prominent names that included those of music queen Beyoncé and the globally distinguished TV host Oprah, the walkway is still expected to be decorated with nearly 10,000 names, according to Emar, the company behind the project.
"In a city that has embraced the idea of multiculturalism, we take pride in implementing an initiative that will resonate with the local expatriate population and tourists visiting the emirate," Shymaa Binbrek, the general manager of Downtown Dubai, said, asserting that "The Dubai Stars" will be one of the most visited sites in Dubai.
Zaki is a leading star known for his large repertoire of successful movies, including Mafia, Sahar El Layaly, Aswar Al Kamar and more. She is known also known for her significant contributions to UNICEF, where she has led numerous campaigns against FGM and other causes, reputed especially for defending children's rights.
Helmy is an illustrious comedian who launched his career with the popular comic movie "Abood ala el Hedoud" (Abood on the Borders; 1999), which starred many legends including the late prominent actor Alaa Waly El Din. The film was directed by Sherif Arafa. "Assef ala el-iz'ag" (Sorry for the interruptions; 2008), "Sone'a Fee Misr" (Made in Egypt; 2014) are also among his many knockouts.