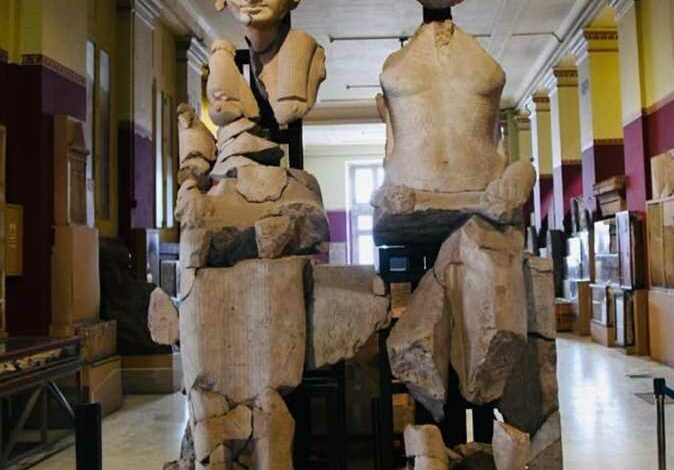 The general supervisor of the Grand Egyptian Museum project Atef Moftah said that GEM received on Monday 13 huge artifacts from the Egyptian Museum in Tahrir as part of the transfer of artifacts to be displayed at GEM in preparation for its inauguration.
Assistant Antiquities Minister for Archaeological Affairs at GEM al-Tayyeb Abbas said that the pieces that were transferred to GEM on Monday include a double statue of the gods Amun and Mut and a pink granite column of King Ramses II.
There are also limestone statues of the goddess Isis carrying her child Horus, a large limestone panel of King Amenemhat I, as well as a number of other huge and engraved paintings.
Abbas added that all the artifacts were registered before the transfer process and a detailed status report was prepared for each piece.
It is scheduled to start the necessary restoration and maintenance work immediately: which is the method used in all the pieces that are transferred to GEM.
The Executive Director of the Restoration and Transportation of Antiquities at the Grand Egyptian Museum, Issa Zeidan said that the transfer process that took place on Monday is an attempt at a delicate and complex transfer that the museum has witnessed in recent times.
He pointed to the enormity of the transported pieces, especially the double statue of the gods Amun and Mut, which is about 4.15 meters high, 186 cm wide and 169 cm deep.
Zeidan noted that this required a careful study of the itinerary of the transportation process and the roads it passes through before the transportation process,
This is in order to remove and avoid any obstacles on the way due to the height of the statue.
This statue was assembled on a metal structure in the late nineties of the last century by the German archaeological mission.
It was assembled and the pieces were installed in their correct places to not detract from the beauty of the statue.