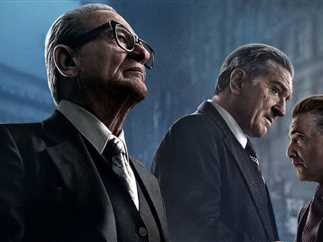 Cairo International Film Festival (CIFF) has unveiled that Martin Scorsese's "The Irishman" (2019) will be the opening film of the festival's 41st run, set to be held from November 20-29 at the Cairo Opera House.
The film is produced by Netflix, and its events are inspired by Charles Brandt's book I Heard You Paint Houses: Frank "The Irishman" Sheeran and Closing the Case on Jimmy Hoffa (2004).
The movie stars three Oscar-winning actors, including Al Pacino, Joe Peche and Robert De Niro. The movie was De Niro's ninth collaboration with Scorsese.
On the selection of the film for the opening, producer Mohamed Hefzy, President of the CIFF, said that the film was an integrated cinematic work by some of the world's most significant actors.
He also described the film as an epic piece of art formulated by one of the greatest filmmakers in history.
The CIFF will hold a second screening of the movie on the following day of the opening, November 21, to offer a second chance for Cairo's enthusiastic audiences to watch the film on the big screen before its later release on the Netflix network.
He expects the film to be well-received by the festival's audience.
Scorsese spent a lot of time preparing "The Irishman", which is expected to contest the Oscars later.
The drama-crime film revolves around the rise of organized crime in the US in the period following World War II, telling a multigenerational tale of one of the most mysterious crimes in contemporary American history: the disappearance of legendary trade union leader Jimmy Hoffa (Al Pacino).
The movie shows the undercover worlds of organized crime, their internal conflicts, and their relations with men of power and politicians. De Niro embodies retired fighter Frank Sheeran, a fraudster and professional killer who worked with the most dangerous gangs of the twentieth century.
Pechey plays the ringleader Russell Buffalino alongside a cast of stars including Harvey Keitel, Ray Romano, Bobby Canaval, Anna Paquin and Stephen Graham.
The CIFF's 41st session will screen about 150 films from 63 countries–the latest and best productions of the year–a high number that prompted the festival to double the number of red carpet shows (Gala) this year to 14 films.
For the first time in its history, the festival will feature more than 30 premieres for long and short films and more than 90 films that won premiere rights in the Middle East and North Africa.
Edited translation from Al-Masry Al-Youm