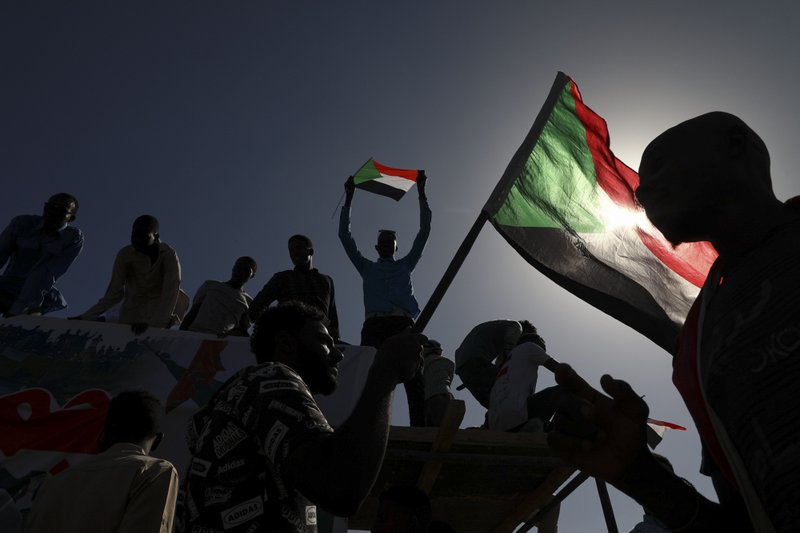 The Arab Spring spawned a mixed record of success regarding liberalization, but one recent bright spot has been the revolution in Sudan, which in 2018 and 2019 swept away 30 years of despotism under former President Omar al-Bashir. This rebellion, notable for its active nurturing by professional classes, has so far spawned a sustainable 'Sovereignty Council' government committed to democracy.
It plans elections in 2022, after which its ministers will stand down.
These ministers have shown admirable flexibility and foresight. The council's chairman General Abdel Fattah al-Burhan has been instrumental in bridging the gap between the old regime and the new order, sharing power with civilians under Prime Minister Abdullah Hamdok. It is unthinkable that al-Bashir would have contemplated such a policy as a response to the demonstrations that eroded his rule.
In the meantime, there's been growth in personal freedoms, including the repeal of laws restricting women's freedom of dress, movement, association, work and study.
Laws have been established guaranteeing independence for the judiciary; the death penalty has been repealed for apostasy by Muslims, and non-Muslims have been allowed to sell alcohol.
Diplomatically, Sudan has struck a normalization and recognition agreement with Israel, a country with which it had had hostile relations, following a meeting in Ghana by General al-Burhan and Israeli Prime Minister Benjamin Netanyahu. It has been removed from the USA's State Sponsors of Terrorism list in December, opening up many possibilities regarding diplomatic and trade exchanges.
So, there's been quite a bit of progress made.
However, this populous country of 43 million people, Africa's third largest by land area, faces significant economic and social challenges as it moves towards full-fledged democracy.
It is vital that richer developed countries do not turn a blind eye to Sudan . It needs help, to build a peaceful, democratic and hopefully prosperous future.
How can this be achieved?
In short, Sudan needs debt restructuring, relief and development aid, and investment guarantees.
The International Monetary Fund (IMF) and the World Bank could play a key role here – accelerating talks to restructure the country's foreign debt, which exceeds more than US$60 billion, helping it clear more than three billion dollars in debt servicing arrears. Sudan could and should be granted access to the IMF/World Bank HIPC Initiative for heavily indebted poor countries, from which it was excluded in 1996 because of its listing as a state sponsoring terrorism.
Rather than receiving debt forgiveness, it was bombed two years later by a US government targeting a pharmaceutical factory it feared might be making nerve gas for Al Qaeda. Now that such concerns have been officially scrapped, Arab, European, and American donor governments could join the IMF and World Bank in forgiving and subsidizing Sudanese national debt.
At the same time, international institutions and national government partners could ramp up emergency humanitarian aid to a country that is still struggling economically.
The pandemic has shocked Sudan's already weak economy, with job losses (formal unemployment at 16.6 percent past year) and sky-rocketing inflation – exceeding 230 percent late last year. The result, say aid agencies, is that 1.1 million children in Sudan have been going hungry. Emergency aid could reduce bread prices, and boost nutrition. It could improve access to fuel and electricity, increasing mobility and business or industrial activity.
Longer term infrastructure and capacity building aid could be combined with short-term help to develop health, education, scientific research, banking systems, and social insurance, including providing more advanced technology available in other countries.
Arab and US investment groups could sink money into Sudan's energy, transportation, construction and industrial sectors, with an excellent chance of a good return. The government says it welcomes commercial and investment delegations to Sudan to assess the potential.
With US President Joe Biden promising to restore American engagement with the rest of the world, promoting US investment, aid and debt forgiveness in Sudan would be an excellent way of demonstrating how these pledges mean something. This is a country emerging from a long and backward tyranny and which needs help during its difficult transition to democracy. Sudan has shown its determination to reform its legal system and diplomacy even ahead of general elections.
The Biden administration would gain global kudos for recognizing this with tangible help. In particular, helping Sudan pay off its debt arrears could enable the county to access funding of $1.5 billion annually – money that it sorely needs.
Also, the US could have a role to play in furthering talks over the Grand Ethiopian Renaissance Dam project that is blocking the flow of the Blue Nile, just 45km the Ethiopia-Sudan border. Understandably, for a country that relies on the Blue and White Niles and the united Nile north of the capital Khartoum for irrigation and water supplies, this dam is of serious concern – as it is for Egypt.
The US could help push for an agreement that guarantees the rights of Nile waters to Sudan and Egypt, given the talk's lack of progress thus far.
The need for good diplomatic relations between Ethiopia and Sudan has only been underlined by the recent border clashes between Ethiopian and Sudanese troops on a frontier which has become especially tense because of the civil conflict within Ethiopia's Tigray province, which borders Sudan.
A stable Sudan would also be better able to prevent its territory being used as a central transit route for smuggling weapons to conflict hotspots within Africa, with the deposed regime having been accused of complicity with the Iranian government to obtain foreign arms.
The rich world needs to step up and help Sudan and its transitional government under Prime Minister Abdallah Hamdok. There is so much potential here – the potential fertility of tracts of farmland allied with the hot sun could deliver a rich and varied agricultural output.
And despite the oppression of its old region Sudanese civil society, with its trade unions and professional associations, has long remained engaged and active, now underpinning democratic change. The resulting free political scene in Sudan is one of the most diverse and vibrant in the Arab world, with left-wing parties such as the Communists and Baathists, debating with liberal secular forces, and Islamic and conservative groups.
After thirty years of injustice and failed management, Sudan today deserves new friendships and partnerships with countries eager to cooperate and invest in a country full of promise.