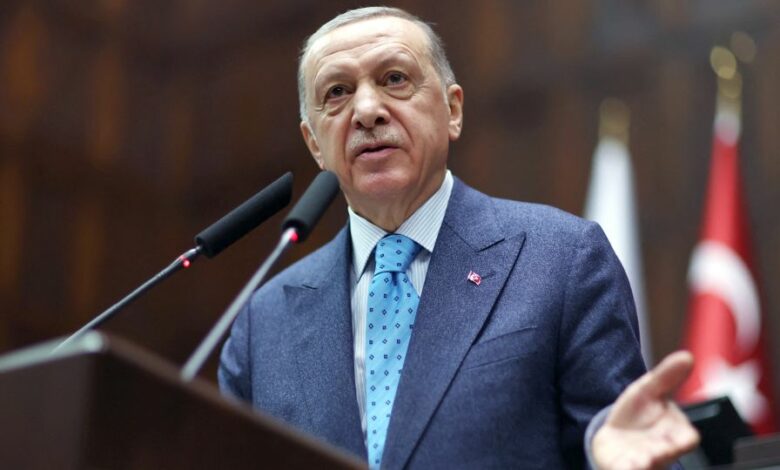 Abu Dhabi
CNN
 —  Turkey is less than four months away from a presidential election that could extend the 20-year rule of President
Recep Tayyip Erdogan
into a third decade. Analysts say that the result may be a close call for the long-term leader.
The poll, which is expected May 14, takes place amid the most serious collision between Russia and the West since the end of the Cold War. And Russia's war on Ukraine has seen Turkey's foreign influence grow to a level that has become an annoyance for some and useful for others. The 68-year-old president has perhaps never been as polarizing on the international scene as he has become of late.
"From the standpoint of the global powers, Turkey fits at the intersection of the West and the rest," said Sinan Ulgen, a former Turkish diplomat and chairman of Istanbul-based think-tank EDAM.
Ahead of the vote, Erdogan has been on a quest to mend fraying ties and strengthen old ones. He has also been eager to leverage Turkey's NATO membership and position himself as a mediator in the Ukraine conflict to both achieve national interests and promote himself as a regional and global leader.
Among those keenly watching the Turkish election on the international stage, there are those who may be rooting for Erdogan, those who have decided to live with him, and those who want nothing more than to see him relegated to the history books. Here's a breakdown:
Russia
Moscow's preferences in Turkey are no secret. The Ukraine war has been a defining moment for Turkey's international influence, but also its relationship with Russia.
Erdogan's close ties with Russian President Vladimir Putin have given his country the unique position of being the only NATO nation whose ear Russia has. He hasn't followed his Western allies in imposing sanctions on Moscow, and is expanding energy ties with Russia while the West is severing them.
"Putin has given a considerable degree of support to Erdogan before the elections in a way that no other global leader has," Ulgen told CNN, citing their growing cooperation as evidence of their deepening ties.
Ankara and Moscow are working on creating a regional natural gas hub in Turkey, which Erdogan previously said can be used to transport gas to Europe.
Turkey is also expected to add nuclear power to its growing energy dependence on Russia. Built, owned and operated by Russia, the country's first nuclear plant is expected to become operational this year, according to state news agency TASS.
The two nations also coordinate their activities in Syria, where both have a military presence but back opposing sides. Analysts say that Erdogan often seeks a green light from Moscow – which backs President Bashar al-Assad's regime in Syria – before launching attacks in the country.
"It is clear that Putin has made his choice very transparent about who he wants to win in Turkey," said Ulgen.
Gulf states
The Gulf states have been uncomfortable with Turkey's role in the Middle East, but they have put those differences aside and decided to work with Erdogan.
Recent rapprochements with Gulf states brought not only a much-needed cash injection into the slowing Turkish economy, analysts say, but also served as an endorsement of Erdogan and a vote of confidence in his rule.
A landmark visit by Erdogan to Saudi Arabia last year marked the end of a bitter dispute between Turkey and Riyadh that exploded after the killing and dismemberment of Saudi Washington Post columnist Jamal Khashoggi in 2018 at the Saudi consulate in Istanbul. Both Riyadh and the United Arab Emirates have also opposed Erdogan's support for Islamist parties in the region.
The Turkish leader also made his first state visit to the UAE in a decade last year, where he met with then-Crown Prince Sheikh Mohamed bin Zayed Al Nahyan (known as MBZ), who is now president. The visit followed a landmark trip by MBZ to Ankara in 2021.
Both those détentes came with financial benefits for Turkey. Ankara got a pledge for a $5 billion central bank deposit from Saudi Arabia and the UAE established a $10 billion investment fund for Turkey.
"(Erdogan) has never won elections when not delivering (economic) growth," said Soner Cagaptay, director of the Turkish Research Program at The Washington Institute for Near East Policy. "That's why he is trying to cultivate financial inflows from outside actors; resetting with wealthy (Gulf states like) the Saudis, the Emiratis."
That U-turn in relations indicated that Gulf Arab states expect Erdogan to remain in power for the foreseeable future, Omer Taspinar, a professor at National Defense University in Washington, DC, told CNN.
"Saudi Arabia and the UAE see Erdogan as a fellow king/strongman and do not really believe kings leave power with elections," he said, adding that the newly mended ties are "a marriage of convenience" that balances the Gulf's concerns as well as grants Erdogan financial support.
The West
Western states would be glad to see a post-Erdogan Turkey, according to analysts.
The United States and the European Union have struggled with the Turkish leader as he continues to stand in the way of Finland and Sweden's accession to NATO and continues to cooperate with Russia. Turkey's reasoning for the stalling of the membership is that the Nordic state have not taken concrete actions against "terrorist" groups – mainly the separatist militant Kurdistan's Workers Party, also known as PKK – that Turkey accuses Sweden of harboring.
Turkey's final straw appeared to be the burning of the Quran during a protest outside the Turkish embassy in Stockholm last weekend.
The US has had its own share of problems with Erdogan. The Turkish president has been working for months to get a sale of 40 F-16 fighter jets to Turkey approved, especially since his country has been removed from the F-35 program since 2019 after purchasing the Russian-made S-400 missile system.
Congressional sources two weeks ago told CNN that the Biden administration, which has been weighing Turkey's F-16 request for more than a year now, is preparing to ask Congress to approve the sale of the jets. Erdogan isn't very popular in Congress either, and US politicians have been critical of Turkey's human rights record.
Biden is yet to invite Erdogan on an official visit, but the two leaders met on the sidelines of the G20 summit in November.
"The EU and the US would be happy to see a post-Erdogan Turkey," said Taspinar. "Such an outcome would prove that Turkey is still a democracy and could create hope for a honeymoon with the West."