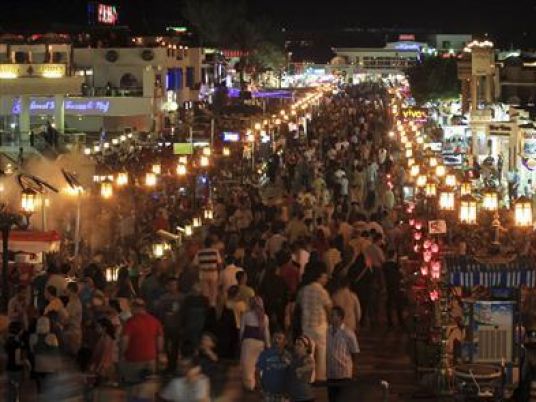 British holidaymakers can now book trips to the Red Sea resort of Sharm el-Sheikh through tour operators Thomson and Thomas Cook for holidays from October this year, despite unchanged Foreign Office warnings against all but essential air travel.
All tourist travel to the Egyptian resort town was suspended in December 2015 after a Russian passenger plane was downed, killing all 224 passengers and crew on board. Since then, the British Foreign Office advice has warned that more atrocities are "likely" because "terrorists continue to plan and conduct attacks".
But tour operators have now started accepting bookings for this fall, despite the fact the trips may not go ahead if the warnings remain in place.
Egypt Independent was able to independently verify the news and found around 20 packages offered by Thomas Cook starting November 2017, with packages for a seven-day holiday for two ranging from £596 to £1144.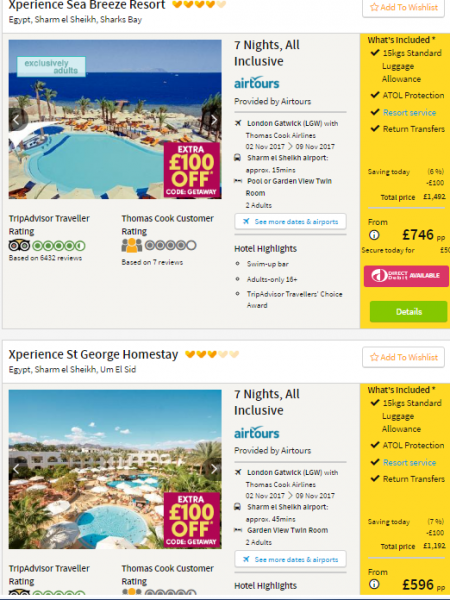 Holidaymakers booking through Thomson can choose their vacation from a list of six resorts with packages ranging between £700 and £800.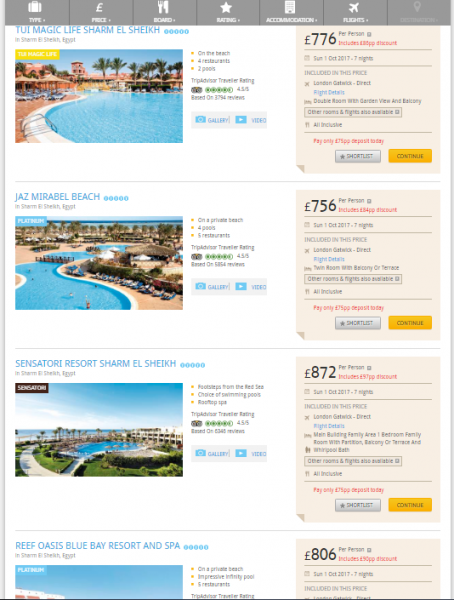 Thomson has inserted an easy-to-miss warning about the current FCO advice right at the bottom of the payment page in small print. It explains that bookings would be amended or cancelled if the terror warning is still in place nearer to the departure date.
"As a precautionary measure the government is advising against all but essential air travel to Sharm el-Sheikh at present. Should the Foreign and Commonwealth Office (FCO) advice not change, then we will be in direct contact with you to amend or cancel your booking," the warning on the website said.
A spokesman for Thomson told media outlets that they have accepted bookings in small numbers to Sharm el-Sheikh as part of their winter holiday programs which begin in October.
"We, like other holiday companies, offer customers the opportunity to book a wide range of holidays up to 12-18 months before they are due to travel. Customers are notified on our website at the time of booking that as a precautionary measure the government is advising against all but essential air travel to Sharm el-Sheikh, although the overall security level of the resort has not changed," the Thomson spokesman was quoted to have said.
Thomas Cook, however, has a warning at the top of its online booking pages stating that holidays to the Egyptian resort town may be cancelled if the FCO advice does not change. A company's spokesperson was quoted in media reports to add that Thomson Cook would have "to take a view on the situation later in the year".
Despite tour operators gearing up for the resort town's recovery, the FCO said it has not issued any information suggesting it may change its advice on travelling to Sharm el-Sheikh.
International tourists have been slowly returning to Egypt since last month, easing pressure on a key sector battered by years of turmoil. Visitors from China, Japan and Ukraine account for a large part of this growth.
Last month, Egypt expressed dissatisfaction at Britain's refusal to lift the flight ban. An Egyptian foreign ministry statement read: "The continued suspension of direct flights [from the UK] to Egyptian tourist destinations despite the progress that has been made in securing airports is not understandable and completely unjustified."
Britain and Germany both imposed bans on flights to certain places in Egypt following the downing of the Russian airliner over the Sinai Peninsula. Russia suspended all flights to Egypt and has yet to restore them.
The flight suspension has hit Egypt's economy hard and was "inconsistent with Britain's repeated promises to support Egypt," the statement added.