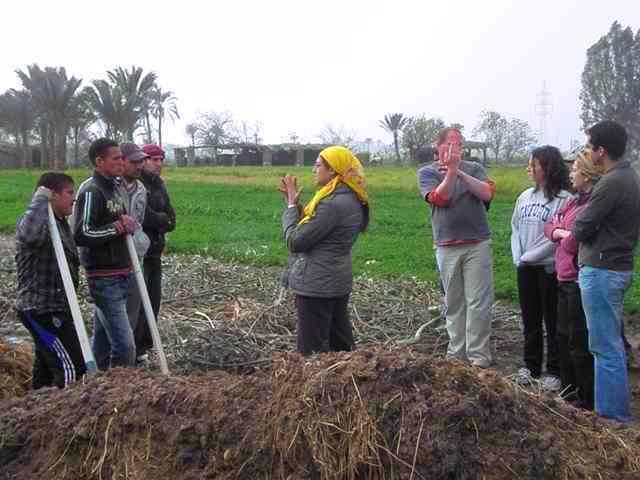 Aiming at establishing clean and sustainable vegetable gardens, "A Thousand Gardens in Africa" initiative held its first training workshop in Egypt on Saturday, two years after the project's launch. Organized by Nawaya, a social enterprise that is concerned with the future of farming communities in Egypt, the workshop attracted representatives of 12 local NGOs as well as individuals from across the country.
The initiative was first formulated and financed by the Italian Slow Food Association, which was founded in 1989 to counter the rise of fast food, the disappearance of local food traditions and people's dwindling interest in the food they eat, where it comes from, how it tastes and how food choices affect the rest of the world. It aims at increasing awareness about sustainable agriculture to produce clean food all over the world.
The Thousand Gardens initiative started in 2010 and aspired to create a thousand sustainable vegetable gardens in 17 countries across Africa including Kenya, Tanzania, Madagascar, Senegal, Mauritania and many others. The project targeted sub-Saharan Africa first as this region suffers from severe food shortages.
As it moves to Egypt, the project's local coordinator Aurelia Weintz lists some of the challenges: "Egyptian people have a lot of nutrition and obesity problems, as they rely heavily on fast food because of its cheap prices. Some farmers in Egypt use harmful chemical pesticides and fertilizers while planting their crops, which raises a lot of health concerns. Also, Egypt has lost more than 60 percent of its native seeds, as it became very difficult to find local tomatoes or other types of vegetables that are produced locally."
According to Weintz, the ultimate objective of the project is encouraging people to establish small vegetable gardens everywhere to turn them from being consumers to producers. By teaching families how to plant on their rooftops and teaching children how to grow their school gardens, Egypt can reduce its fruits and vegetable imports. Moreover, the campaign suggests making use of the governmental public gardens that contain fruitless trees and replacing them with productive vegetable and fruit trees.
The project doesn't target farmers or large agricultural companies as much as it targets ordinary people who can produce food in small quantities using limited resources, challenging the preconception that people can't grow anything in cities. In addition, it calls for spreading the culture of building communities by gathering people around a collective goal.
Weintz says the aim is not to achieve complete self-sufficiency as the initiative relies mainly on gardens of limited sizes.
"Although the garden won't provide the person with all the food they need for a balanced diet, at least it guarantees a daily supply of fresh and healthy food that can help families reduce the amount of vegetables they buy from the market. This can save a lot of money for many Egyptian families who have financial problems."
The first training session was hosted by the Fagnoun Art Village in Saqqara on Saturday. It taught participants about permaculture and its principles, which include taking care of the Earth, taking care of people and sharing the production surplus between them. It included information about inexpensive planting techniques and using household items such as bottles and other kitchen waste as plant containers. Attendees were divided into two groups for the practical workshop and asked to either plant a small garden intensively, which means growing different kinds of plants in a small space using creative techniques such as making spiral shapes from rocks to grow herbs inside, or to plant on a rooftop using natural composts made of food waste and rice straw. The participants then discussed problems they encountered and experts gave them guidance for better planting experiences.
Representatives from several NGOs and schools participated in the workshops, including the Fayoum Agro-Organic Development Association (Faoda), the Manshiyet Nasr-based NGO Bedaya, the Basata School in Sinai and DEMENA Egypt, as well as six other schools in Fayoum.
"We decided to support and participate in the Thousand Gardens campaign because its goals are similar and closely related to our NGO's activities," explains Mohamed Medany, the general manager of Faoda. "Faoda calls for going back to nature by teaching farmers how to use the organic and safe farming techniques. What's really interesting about the Thousand Gardens initiative is that it also targets school children … children put pressure and will oblige their parents to adopt these healthy reflexes when it comes to deciding what is for dinner."
Mohamed Barakat, the general coordinator of the Egyptian 350 Movement that aims at increasing people's awareness of human-caused climate change in order to slow the rate of global warming, said he was glad the initiative was finally launched in Egypt: "Planting small gardens in schools, homes and public spaces will help reduce carbon dioxide emissions… I attended the workshop and I was surprised by the new information I could get, and I decided to convey the message and started growing a small garden with my little brother on the roof of our house."
Over the last few months, the Slow Food Initiative has been actively opening up new gardens in many African countries. The project saw the creation of its first gardens in Tanzania at a primary school in Dar al-Salaam, as well as Msindo, a tiny village in the southern part of the country. In addition, 13 gardens in Uganda, 11 gardens in Kenya, two gardens in Tanzania, and one garden in Cote D'Ivoire were established. Slow Food tracks their progress on an interactive map that's updated as new gardens are launched.